Buying a home with a pool? You may want to consider having it inspected. Nothing is more disappointing them moving into a home with major repairs leaking around every corner.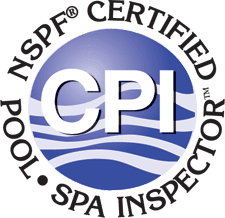 Our Certified Pool/Spa Inspector™ (CPI™) can take the time to inspect the pool to determine if there are any obvious problems or when you could expect some repairs.
Armed with a report* and some visuals you can then budget for any upcoming obvious repairs. This service is great for owners who want to make sure their pool is in tip top shape or for those who are getting ready to sell or are buying a home with a pool.
We also offer inspections to existing homeowners, Green Inspections and other on site services.
Fill out the form below to book your swimming pool inspection today!
*A detailed report on the current condition of the pool, liner and equipment, including quotation.