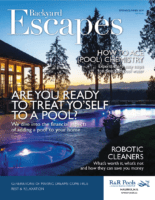 Our 2019 annual swimming pool, hot tub and backyard magazine with trends, advice, beautiful backyards and all the details you need to make this summer the best.
The R&R Pools team has been installing swimming pools for 40 years, with our specialty being inground swimming pools.  We also offer hot tub/pool combos, a full after-service line and certified water care technologists to take care of your needs from the dreaming stage to the reality and beyond.
An inground pool can provide real value to your home and enhance your landscape, providing a pleasant water feature on your property. They stand up well to our harsh Atlantic Canadian winters and to even the most rowdy family pool party.
Come take a look around and start dreaming of your own backyard getaway. No matter the project, we know pools!
What can an R&R Pools inground pool provide?
It's a great way to keep your kids close to home.
It's a household centre for family fun.
It's a great way to entertain friends.
It's a soothing and calming escape from the everyday.
It's a vacation without having to leave home.
It's an affordable option for relaxation and recreation.
It's a convenient and low-impact way to exercise.

10 Reasons why R&R Pools is the right choice:
We provide top quality work.
We work on your schedule.
We're happy to work side by side with other subcontractors.
We're timely, and take deadlines seriously.
We take responsibility for our service and product — no excuses!
We're committed to transparency through the entire process.
We're trustworthy, and are dedicated to earning and maintaining your trust.
We refuse to ever use "bait-and-switch" tactics.
We provide huge value in our after-service offerings.
You become part of our FAMILY!

Want to know more about R&R Pools?
We're happy to provide references from current or past projects.
Our reputation is second to none. Feel free to ask others in the industry about our products and services!
We keep our Workers' Compensation Board and Liability Letters on hand at all times, for your peace of mind.
Read more about us