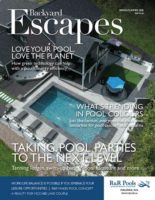 Our 2020 annual swimming pool, hot tub and backyard magazine with trends, advice, beautiful backyards and all the details you need to make this summer the best.
Sit back, relax and enjoy a little R&R with R&R Pools
Buying a pool is an excellent investment for your home and lifestyle, and you deserve only the best quality, service and installation.
Here at R&R Pools, we love what we do and we make sure it shows. It is our honour and privilege to help you create your dream backyard where you, your family and your friends can come together to enjoy the recreation and relaxation that your pool will provide.
As part of the R&R family, your happiness with our product is our top priority. We take a personalized approach to building in-ground pools, meaning that you will never be "just a number."
As a full-service company, we will walk you through the process of choosing what is right for you and your family, both today and in the future, so that no detail is overlooked. Our service begins with the pool building process and can continue with our after-build service, newsletters, blogs and invitations to our "Do It Yourself" seminars. Whenever you need us, we'll be there to help.