R&R Pools uses Kafko's True-Fit Ultra-Seam Liners for all our Inground Swimming Pools
Kafko™ True-Fit® Inground Vinyl Swimming Pool Liners are the Best Fitting Pool Liner available: It's that simple! Kafko™ has developed, refined and improved it's design and manufacturing process and specifications to tailor fit both New and Replacement Inground Vinyl Pool Liners.
True-Fit® Vinyl Liner Features
Custom Designed and Manufactured
100% Virgin Vinyl
Equipped with algae inhibitors, which aid normal sanitizers to protect Kafko™ liners for a long life.
Manufactured with UV inhibitors to protect against fading and sun damage.
Cold Crack Temperature Protection to -40°F
New or replacement liners are available; restyle your backyard!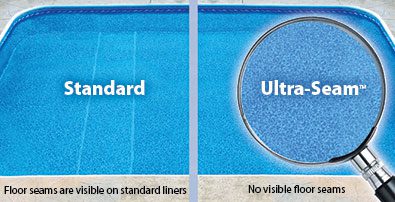 Exclusive Ultra-Seam ™
With standard vinyl pool liners, the seams on the pool floor are visible. Latham's exclusive Ultra-Seam ™ process makes floor seams stronger and virtually invisible. No more visible lines on the floor detracting from the beauty of the pool!
Are you looking for a certain feel or colour of water?  Check out our colour selector. 
Check out Latham's website for the current selection of Liner Patterns: https://www.lathampool.ca/liners/
Note: Color of material may vary.  Ask to see an actual sample in store.  Seam lines are more visible on patterns that are printed on white base material.
Having trouble picturing the liners in a pool?  Check out the liners catalogue below or the Latham Liner Visualizer.