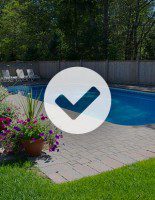 Download the quick reference card to keep track of when and how often you should care for your pool.
Do you have staining? Metal Problems? A bath tub ring or are constantly battling algae? We have a solution for that!
Taking care of a swimming pool can be very easy! Sometimes you just need the right partner or guidance and a good quality product to make things go smooth. Worry free water care is only steps away!
Here at R&R Pools we understand you and your pool are unique so we have established a personalized approach to our customized water care program using only the highest quality products which will have you spending less time and money on the pool and more time enjoying it!
In store we offer one-on-one personalized programs customized specifically for you and your pool's unique needs. Our in store staff are experts in pool water care holding water care technologist certifications directly from BioGuard, one of the world's leading experts in swimming pool water care.
In addition to our in store experts we also offer 14 point, State of the Art water testing free to our customers, one-on-one tutorials, DIY seminars, blogs and much more. Whether you are hands on or hands off our certified water care experts will send you in the right direction.
What can you expect?
Certified in-store water care experts
Highest quality water care products from BioGuard
10 point, State of the Art water testing
Step by Step instructions
DIY Seminars
Blogs
New to water care?
First we will start with getting all your pertinent information about your swimming pool and your lifestyle to determine which products will be right for you.  Together, with a water sample, we will come up with a custom prescription that you will use to get the pool perfect and keep it that way.
Next we will create a personalized weekly program which will take minutes a week! After that just pop in once a month for a quick check up and fire up the BBQ!
We also have checklists for weekly, monthly and yearly tasks to keep your swimming pool in tip top shape!