Top 5 Trends for 2022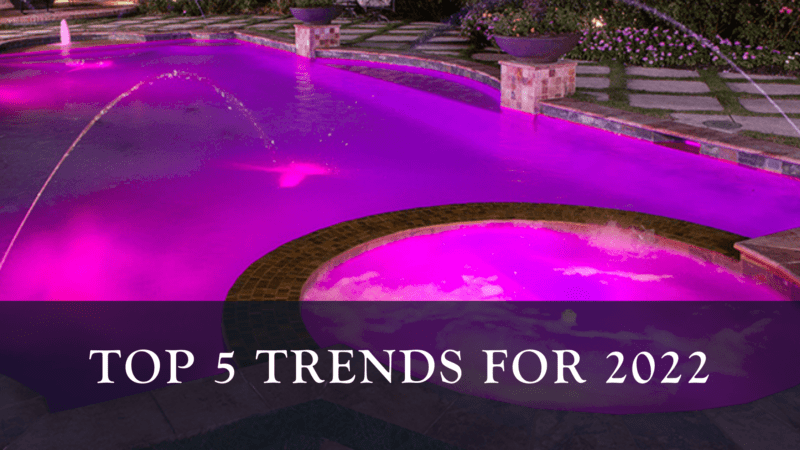 1. Lighting

Adding lights to a swimming pool has been done for years, but the technology that is available is changing. From picking the color of lights to suit your mood, to being able to control them from your smart phone are only a few ways your can transform your yard into a beautiful retreat for your evenings spent outdoors. Ambient lighting throughout the yard itself can also add to the stunning effect you desire, allowing you to turn your haven into a gorgeous design to fit any mood or occasion.
2. Smaller Pools

Wondering if you have a large enough yard to put in a pool, or worried it will take all the yard space you have? The latest trends in creating your backyard retreat are designing smaller inground pools, to fit any yard, and they are proving to be a huge hit with many families. Choosing a smaller project for your pool can still add an impact to your backyard sanctuary, not only allowing you to customize it around your other backyard ideas, but it will also provide a fun way to cool off after a long week at work.
Complete the form on this link to get started with our construction team today: https://www.rrpools.ca/services/personalized-services/inground-pool-installation-consultation/
3. The "Fallon" Ledge

R&R Pools clients are loving this step-ledge combination. The 'Fallon' ledge provides a shallower area for toddlers to play in the pool, or for anyone who wants to cool off and lounge without being fully submerged in water. Paired with a beautiful, rounded step to enter the deeper area of the pool it is stunning and gorgeous. Covered with your vinyl liner to give a seamless transition from one area of the pool to the rest.
Talk to our construction team today to see about adding this to your pool design or pool renovation project.
New Install: https://www.rrpools.ca/services/personalized-services/inground-pool-installation-consultation/
Renovation: https://www.rrpools.ca/services/personalized-services/pool-renovations/
4. Automation

The Omni Logic Automation by Hayward now comes standard in all our new pool installs but can easily be retrofitted into your existing system.
Allowing you to have control of your pool equipment, from anywhere, in the palm of your hand. The Omni Logic can control equipment such as pumps, heaters, lighting, cleaners, water features and even backyard lighting. You can control the system from your smart phone, or any of your smart devices as it is compatible with your Amazon Alexa, Google Nest, and other smart devices.
One app. Unlimited possibilities. Contact our service team to have the Omni Logic added to your system today. https://www.rrpools.ca/services/regular-services/equipment-installation/
5. Robotics

Although Robotic pool cleaners are not a new craze, they are still trendy and growing their popularity each season. And the technology offered these days makes having a robotic pool cleaner fun. Did the cleaner miss a spot? Don't worry, you can control The Polaris VRXIQ with your phone and guide the cleaner to the area that needs the most work.
And if you have an above ground pool, don't feel left out, we have a few models that will work with your pools as well.
Be sure to check out our "Try B4 U Buy program" and see if a robotic pool cleaner is right for you!