Try B4-U-Buy Robotic Vacuum Program

Let a robot clean your pool during our free try b4-u-buy demo program
POLARIS VRX IQ
Power and Performance that Adds Up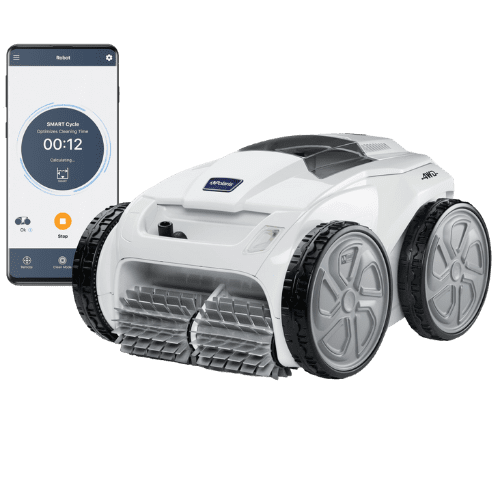 The Polaris® VRX™ iQ robotic cleaner combines intelligent cleaning innovations with core iAquaLink® app features and patented technologies for robust cleaning performance
The Polaris® VRX™ iQ features intelligent cleaning technologies that calculate the optimal cleaning time for your pool. Combined with the core capabilities of the iAquaLink® app on your smartphone, you can conveniently control and monitor the status of your cleaner allowing you to get your pool ready to go whenever you want. Powerful Vortex Vacuum technology and advanced 4WD provide exceptional performance while the Easy Lift Removal System and Easy Access Debris Canister make emptying debris hassle-free. Equipped with Wi-Fi connectivity for on-the-go control and over-the-air performance updates, the VRX™ iQ only gets better over time.
Features
SMART Cycle Cleaning Mode – Calculates optimal cleaning time.
Deliberate Navigation – On-purpose patterns scan and measure pool.
Sensor Nav System™ – Adjusts and adapts cleaning to pool.
In-App Remote Control – In-app remote lets you guide the cleaner.
Automatic Updates – Receives over-the-air performance updates.
Extra-Large Filter Canister – Easy to access filter canister with transparent window.
Powerful Performance – Vortex Vacuum technology and 4WD agility.
Patented Easy Lift Removal System – Retrieve at waterline. Water evacuates for lightweight removal.
Easy to clean Canister – Simply remove, shake, and spray away debris.
---
Hayward AquaVac 600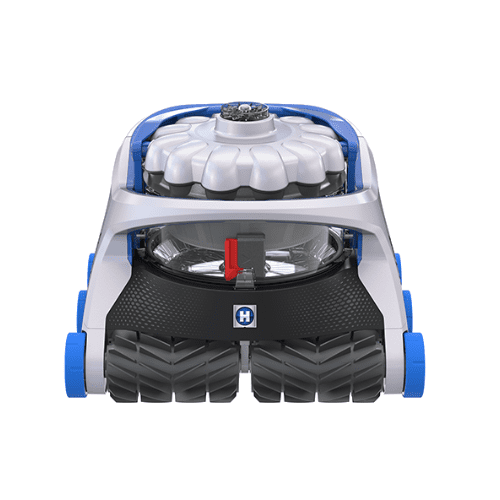 AquaVac 6 Series robotic cleaners feature first-of-their-kind capabilities. They're engineered to navigate any pool surface while maintaining constant suction power and include a TouchFree™ debris canister that empties and rinses itself.
AquaVac 600 pool cleaners are reinventing the robotic cleaner market with first-of-their-kind capabilities. While other cleaners can lose suction, AquaVac 600 cleaners feature patented SpinTech™ filterless technology with 18 hydrocyclones, maintaining maximum suction power. The six variable-speed-driven rollers with adaptive traction offer wall-to-wall cleaning on any pool surface and the unique TouchFree™ debris canister, with a quick release button, is designed for effortless cleanup. AquaVac 600 cleaners are the perfect solution for pool owners who want the latest in innovation and smart technology.
Features:
SpinTech filterless technology maintains constant, powerful suction
HexaDrive™ adaptive traction expertly navigates, climbs and scrubs all pool surfaces
TouchFree debris canister empties and rinses itself with the press of a simple quick release button
Non-programmable white light display
Operates on a recurring 48-hour cleaning mode
Caddy cart and power supply included
Want to find out more about the robotic vacuums we carry?
If the try-b4-u-buy program isn't right for you but you are interested in learning more about the robotic vacuums we carry and which one might be best for your pool please fill out the form below to request information and pricing.