5 Reasons to Open your Pool Early (like before May 11th!)
Opening your pool early has many unrealized benefits you may have not thought about before. We're here to tell you to get that pool open! And here are 5 great reasons why you should:
Easy and Cheap clean-up!
The water may be too cold to swim in yet but this is the cheapest and fastest time to make that pool water come to life! Get a head start and save yourself time and money by tackling that pool water while the temperature is cold.
Once the sun is out up the water starts to heat up, turning potential problems into a big headache.
Beat the Rush!
Whether you book your pool to be opened by a pool company or do it yourself the longer you wait the more people wanting to do the exact same thing you are trying to do are already ahead of you. Waiting too late to call in and book your opening can mean you will be scheduled later then you had hoped (like AFTER the pool party you had planned) and that can be frustrating. If you happen to have a problem that requires a professional you could end up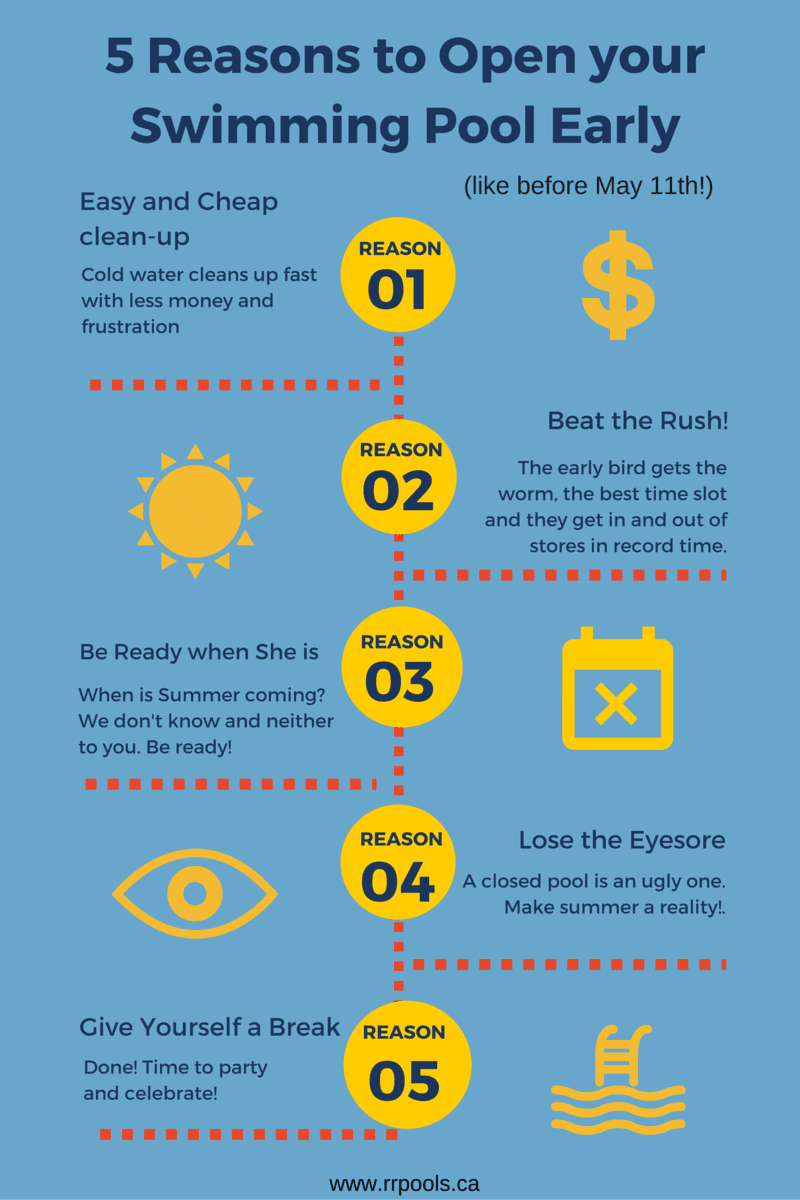 waiting weeks to get it fixed. Yes we are that busy!
Additionally waiting too long to get into the store and get the pool water tested and pick up supplies can mean long wait times to talk to knowledgeable pool experts. Spring time is the pool industry's "Christmas Season". It's just like buying Christmas gifts. Save yourself the grief and the time – be proactive!
Be Ready when She is!

It has happened to all of us. You get up one day and you realize today, yes today, is going to an awesome pool day. Oh wait! The pool isn't ready yet- boo. You want to be ready when Mother Nature decides that yes Summer is here. We never know exactly when that tide will turn but when it does you do not want to be a step behind. That being said, in my household my husband has a saying many have heard before, "a Happy Wife is a Happy Life!".  If the pool is "hers", she and the kids are itching to get in. Just one more reason to be a step ahead .
Lose the Eyesore!
The snow is gone, the black stuff has washed away and now all you are left with is brownish greenish grass surrounding a black ugly pool tarp ugh! Nothing is worse than looking at that mess while you are trying to daydream about all the fun coming up! Spring is an exciting time full of so many sunny promises. None of them are going to happen with the pool closed.
Give Yourself a Break!
Ever heard of "The Early Bird Gets the Worm?" how about the early bird gets to do whatever else they want to do when they are done? Like every other chore, once it is crossed off the list, that ship is smooth sailing right into summer.  Cross it off the list and move on to greener pastures or get started on adding to your piece of paradise. Where did she say she wanted that new BBQ? Yes that sounds better doesn't it? Time to Party!
Once the pool is opened it will require very minimal chemicals and run time to keep it looking fabulous. When the temperature reaches "Party" time" start your usual weekly routine and ensure your pump is running 24/7.
Welcome back!
Need some help? We got you covered!
Book your pool opening HERE!
Get your pool opening instructions HERE!
Attend our next opening seminar- register HERE!