Why open the pool early?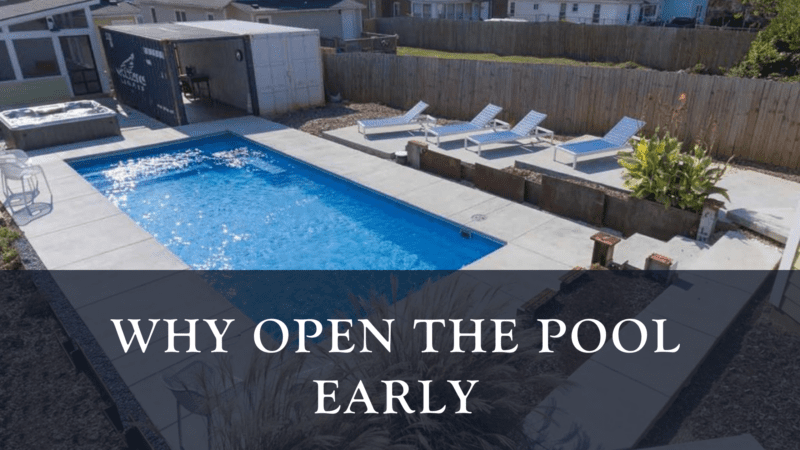 We receive a lot of questions every season about when, in the spring, is the best time to open the pool. We recommend opening the pool by May 11th, the earlier you open, the better it is. There are several benefits to opening your swimming pool early:
To ensure the pool is ready for use as soon as you are ready to swim. The weather can change at a moment's notice. Having the pool clean and clear means as soon as the temperature rises you are ready for the first cannon ball of the season.
When you open the pool early, you have the time to address any issues such as algae blooms immediately and correct the water balance. Again, allowing you to enjoy the sparkling clean water as soon as the water temperature suits you.
You can also save time and money by opening the pool early. It is easier on your wallet to complete your weekly maintenance of the pool rather than the chemicals you will require to clear a pool that has been affected by stagnant water under warm cover. You reduce the chance of opening to an algae bloom when the water is cooler.
You will beat the rush at the pool store when you open early, saving you waiting in line for your first water test and to stock up on the chemicals you need. Once the weather becomes warm, the pool store is the place to be as everyone is rushing to get their pools open as quickly as they can. Spring in a pool store is just like Walmart at Christmas time.
Extend your season, by opening the pool early, you can start your season as early as you can enter the water. This is especially beneficial if you have children who are tired of being in the house and need to remove some of those winter doldrums.
Lose the eyesore. Looking at the ugly tarp once the winter snow has melted can make a person feel a little down. Opening the pool early gives you something pretty to look at while you drink your morning coffee and can help to lift your spirits as you remember that summer is on its way and start planning those pool parties.
Opening the pool early can help ensure the pool is healthy, safe and ready to be enjoyed all summer long. It has been a year since we have all done these important steps to open the pool, if you need a refresher course, we do have DIY webinars available. Or if your not the DIY type, use this link to book our knowledgeable team members to do the task for you!