There are many ways to heat your pools these days, so why should you consider investing in a heat pump instead of choosing another method? A heat pump is a cost-effective and energy efficient way to heat your swimming pool and allows the pool to remain open later in the season.
While the initial investment of a heat pump may be higher than other heating methods, the energy savings performance make these cost effective year after year!
The air heat collectors, matched with the water heat exchangers are used to transmit heat found in the outdoors, to warm your pool. The high efficiency compressor and fan motor require only a fraction of electricity to operate.
The Titan brand of heat pumps, which we have carried for decades, not only have a high efficiency performance, but also include the following advantages:
Quiet operation. – Allows you to still enjoy your backyard oasis without the noise of loud pool equipment disrupting the birds singing.
Set and forget digital controls. – The set and forget digital controls are so simple to operate. They allow you to visually see the current temperature of the pool water and to adjust the desired temperature settings.
Low water flow safety cut-off switch. – For safety reasons, the heat pump automatically turns off if it detects a low flow of the water
Pollution-free operation. – The Titan heat pump uses renewable heat and is electronically driven so there are no toxins being produced from the unit.
Simple installation. – A titan heat pump is easy to install by the DIY homeowner, or you can request our service team complete the installation for you.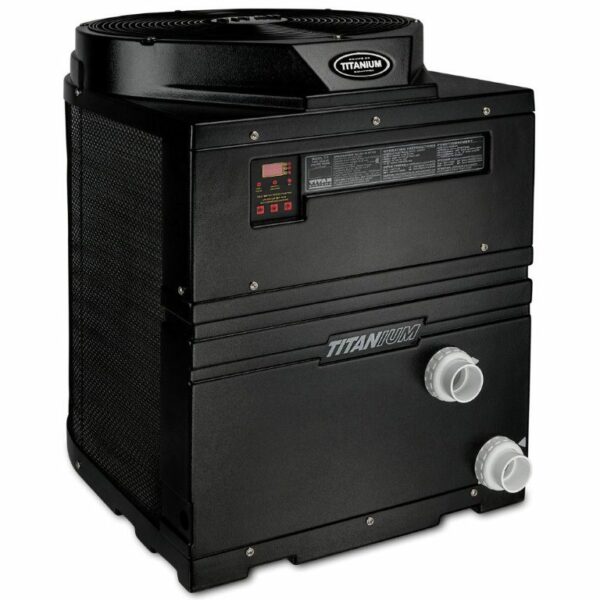 On top of these advantages, their heat pumps have strong warranties included:
Free of manufacturing defects in workmanship & materials for two (2) full years beginning from the date of purchase.
The COMPRESSOR is warranted against manufacturing defects for FIVE (5) years from the date of the purchase.
The heat exchanger TITANIUM TUBE has a LIFETIME chemical corrosion warranty.
Overall, a heat pump, especially a Titan Heat Pump, is a great choice for pool owners who not only want to extend their swimming season, but want to heat their pool in the most cost-effective, energy efficient and environmentally friendly way possible. Contact our knowledge team members to further discuss Heat pumps and sizing as well as to receive a quote.