Wondering what's new at R&R Pools this Hot Tub Season?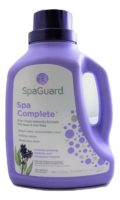 One of the most exciting additions to our line up is the new "SpaGuard Spa Complete".  
Spa Complete is a new 3 in 1 intensity formula that makes the spa water feel wonderfully soft and look amazingly clear, while keeping hot tubs noticeably cleaner.  
Containing soothing lavender and eucalyptus extracts, the pleasing aroma is just the beginning highlights for this product. The unique weekly treatment contains special ingredients to create velvety soft conditions and water clarity that must be felt and seen to be believed.
Additional components reduce waterline issues with regular use.  That combination helps Spa complete do the work of several current products and adds more than a few more benefits to any spa care routine.  With its sturdy pour spout plus a dosing cap, it should provide the average spa user several months of comfort, clarity and cleanliness.
Did you see our previous blog on Aromatherapy with Spa Scents?  If not, feel free to click this link to see it.  Although we have carried Spa Scents for years, we have expanded our inventory and have over 65 different types available in store.  
Aromatherapy has been used for decades to benefit the body and the mind, from the common cold and flu to insomnia and anxiety.  Botanicals have been shown in many studies to contain active compounds which improve psychological and physical well being. Although there is no scientific evidence to support some claims made for aromatherapy in your hot tub they can help you to relax, improve your mood, and allow you to sleep better.  Our brands of scents will not harm your hot tub or change the chemical balance of your water.  
Stop in today, your nose will thank you.

Another handy product new to our store is the Spa Flip Floater. Fill the floater with 1″ sanitizing tablets (Unit will hold 5). When the sanitizer is almost empty it will start to lean over.  When the floater is laying on its side the tablets have run out.
And of course, many of your favorites that we have carried before are returning:
Spa Bar – A floating refreshment bar designed specifically for spas and hot tubs. Features water filled ballast to enable the bar to sit stable on the spa edge or float steadily in the water.
Spa Pillow – An inflatable pillow for use with spas and hot tubs. Features soft velvet like finish with suction cups.
Spa Booster Seat – This comfortable and attractive design features heavy duty, heat resistant material and suction cups to prevent the seat from floating or moving. The firmness and size can be adjusted by the amount of water used to fill it. Easily filled with a standard garden hose.
Spa Disc – Specifically designed for spas and hot tubs, Spa Disc soaks up and removes body fats, oils and suntan lotion. Prevents the build up of scum lines
And so much more.
Come in today and see our selection, and bring in a water test, we will happily test the balancers of your water to ensure your tub remains healthy for all who share it with you.