Want the silkiest Pool water in the city? The secret is out
 What are some of the things you always hear people say when it comes to swimming? "My skin feels so dry after swimming" or "my hair is so dry and brittle every time I get out of the pool" So much that you will notice that some people will even avoid the swimming pool!
What if I told you that we at R&R Pools have solution for this! Not only will we help your skin feel refreshed, are you ready ladies this one's for you, NO more tangles!! No more dry brittle hair! Especially you salt customer. Well that is right! We have products that will do both!
Let's start with saying anytime you are in water, whether it is the ocean or swimming pool, your skin will dry out. Chlorine, Bromine, Salt or Ocean will remove the oils from your skin and hair. We can't help with swimming in the ocean but we sure can help your pool and hot tub.
The First thing is Optimizer Plus – No more Dry Skin

Whether for the pool or hot tub; Optimizer Plus is a once a year application that is not only going to help your skin feel better more refreshed and softer, it is also part of our "Green Free Guarantee"! That is correct, we at R&R pools believe in our products that strongly that if you follow the rules and conditions that apply to our "Green Free Guarantee". What is our "Green Free Guarantee"? You must have a record of BioGuard Water analysis of an algae free pool prior to closing your pool, Pool must be covered with a winter cover. Guarantee does not cover algae caused by ripped or torn winter covers. Proof of purchase for your closing kiyts is required as well. For a complete list of see in storefor more detials.  So If you open your pool to a swampy mess fill out your guarantee card that came in your closing kit.before May 15ththan we will cover the costs to make your pool clear again!!  So not only does the Optimizer plus make your water feel smoother, but it also makes you feel better knowing that you have that extra reassurance that you pool is algae free.
The Second is GoodBye Dry – Hello Ladies, This one is all for you!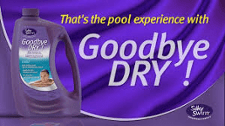 How many times have you come home from a hard day's work and would love to jump in the pool to cool off before you have to head out to run your errands? Staring at the pool, knowing you just do not have the time to wash your hair because of how dry and brittle the pool water makes it fell. Well ladies, GoodBye dry is the answer. This product is so amazing, especially when combined with Optimizer Plus. Goodbye Dry is a weekly application, unlike Optimizer, that gives your hair the feel that you just stepped out of the salon. NO more tangles, no need to wash your hair when you get out. I know ladies, it is a dream come true. We have been selling GoodBye Dry for a few years now and our customers are recommending it to anyone that has children or even just a busy lifestyle in general. GoodBye Dry gives you ladies the full benefits of owning a pool all season long.
GoodBye Dry is not part of our "Green Free Guarantee"
Drop in our store today to get all our helpful hints on how to feel refreshed from head to toe with very minimal efforts
Don't forget to bring in your water sample. Bring your 1 lt bottle of pool water in to the store, don"t forget to take the sample elbow deep away from the skimmer or returns for the best accurate sample.