Pool install creates fashionable, functional outdoor living space in Chester
By Fred Sgambati
Jim and Whipple Kanellakos of Bedford, Nova Scotia have a strong affinity for family, fun and the value of outdoor living spaces. When it came time for them to consider a swimming pool, they knew exactly what they wanted and where to go to get it.
The couple and their family – two daughters, aged nine and eight; a son, five; and their 16 nieces and nephews– enjoy a summer home that overlooks the back harbour of Chester, Nova Scotia. And they all love to swim. So when they decided to install a pool, their concept going in was to create a well-considered, functional outdoor living space that included a swimming area complete with heat pump, a pool house, outdoor barbecue and dining area, and an automatic pool cover. The pool itself is surrounded by a beautiful tiled deck complete with outdoor furniture that includes chaise lounges, deep-cushioned chairs, umbrellas for shade, and cozy two-seater benches. A wrought iron fence completes the effect, blending style and safety in equal measure.
The property is on a steep hill that didn't allow for easy use of the yard, so Jim and Whipple decided that the best way to extend their outdoor living space was to install a pool as a focal point and then build around it. A significant amount of site work and retaining walls were required to accommodate the space on the hill, but the concept they created with the help of an architect friend was viable and perfectly suited to the space.
They did their homework, too. They sought advice from friends who had engaged R&R Pools over the last couple of years, and Jim met with co-owner Derek Redden and the R&R team to discuss finishes and features that were available at the time. R&R has been providing Nova Scotians with excellence and quality in the pool industry since 1983 and has installed hundreds of pools over the last 35 years.
"I was looking for someone that would deliver on time and do what they stated they would do," Jim says. "Derek and the R&R team were very dependable and delivered as they had promised."
Doubles as a social hub
"We both come from large families," he added, "so we needed a pool that would accommodate a lot of people, especially kids. The undertaking to have this pool installed was significant due to the hill. That being the case, when we made the decision to go ahead with the project, we wanted to maximize our outdoor living space with a large lounge area, outdoor dining, and a pool house. The size of the pool that we went with (20′ X 40′) allowed for that optimal balance. We also wanted a pool long enough to be able to do laps."
The pool certainly delivers a fitness component, but doubles admirably as a social hub too, providing an inviting environment where friends and family come together to enjoy fellowship and the benefits of summer fun in the sun.
The install was completed in late summer 2015. As you can imagine, anticipation was high. The results have been tra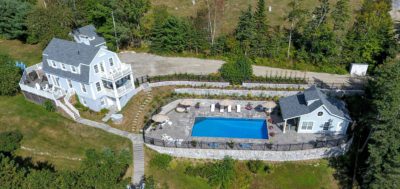 nsformative.
Whipple says life now is "more entertaining, with lots and lots of family time. Most weekends we welcomed friends and family for an afternoon/evening stay, barbecuing either a late lunch or dinner. It was all very easy to manage…super simple, and easy to accommodate whomever showed up. The more the merrier! And we couldn't have had a more perfect summer than we had in 2016!"
Jim adds, it was "awesome! The weather during the summer of 2016 was exceptional, and there wasn't a day where we didn't share the pool with friends and family."
The pool's heating system allowed them to extend the season considerably in the spring and fall for maximum enjoyment, and the automatic cover retained the warmth and provided tremendous peace of mind from a safety perspective with so many young children around.
Reflecting on the installation process and the tremendous summer of 2016, Jim says he and his family had a great experience with R&R. Their summer residence has been transformed into a staycation spot that brings family and friends together. He respects R&R's commitment to customer service and quality workmanship, noting, "as I mentioned earlier, I really appreciate when people deliver what they say they will and when they say they will do it," and that's exactly what happened with the team from R&R Pools.