Stay safe at R&R Pools
As promised in my last blog, safety equipment and ways to stay safe all season long are available at R&R Pools. Whether it is a safety hook or pool alarms, we are prepared. Are you?
Some of the tools we have for safety, are safety hooks, poles, swim rings, arm bands, pool alarms, and so much more.
Double Loop Shepherd's Crook – This double loop hook is constructed of sturdy anodized aluminum. These hooks are great to have at poolside for many reasons. If they cannot grab the crook, or do not see or feel it, which frequently happens, dip the crook deeper in the water and swing it around behind the victim to pull them in. You should place the curve of the crook around the back of their chest below the armpits.
The poles for your crook hook is a more heavy duty pole and should be attached to the hook at all times and be available within an arm reach in case of an emergency.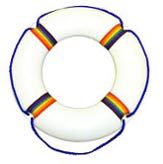 Swim Rings – Swim rings should also be available at the poolside. Swim rings are not designed to help a person that is panicking, that is when a hook comes in, a swim ring is for to help the person stay afloat or to assist you in bringing the person closer to help them. Swim rings for safety should never be inflatable, actually the only safety tool that should be inflatable is your arm bands. Safety equipment that is inflatable can easily develop holes and not be as efficient as you may want in a time of panic and distress.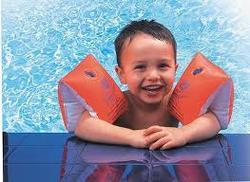 Arm Bands – Arm bands are meant for persons of all ages. If you are not a strong swimmer or even if you know that you will be spending a lot of hours in the pool or lake, and may get tired, arm bands will help you stay safe while treading water. If you are not a strong swimmer and are not able to take any swim survival classes, then it is always best to wear a life jacket.
Pool Alarms – There are so many pool alarms available out there today. The question is which one will work best with your family. The most popular one that we carry is the Swim Alert. This alarm is meant for even the largest of pools. The Swim Alert lets you know when anyone over the weight of 18 pounds enters your pool. The high pitch siren can be heard through any closed door. Pool alarms still require a very attentive adult, as they do not save lives, they only help prevent accidents from becoming fatalities.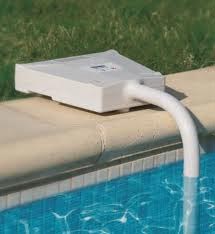 Do you have buoys up to let everyone know where your slope to your deep end  in your pool starts? Do you have your first aid kit and cordless phone out at the pool at all times when the pool is being used.
Here is a fun test for you all. Can you find the 10 things that are wrong with this pool setting?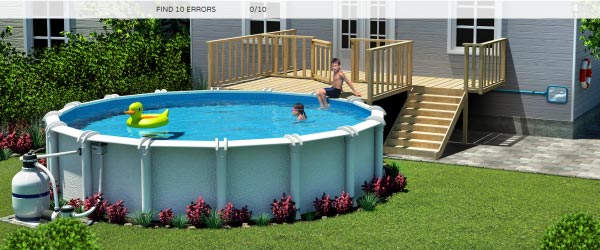 Can't wait to hear all your comments. Next week I will post the answers, along with more ways to stay safe while enjoying your vacation in your backyard. Only a few more weeks left of our safety sale. So don't forget to drop in if you are missing any of your safety equipment. So till next week I hope you all are practicing being safe whether at the pool or the lake.