Shortages – How we made out last year, and how we are dealing with this season.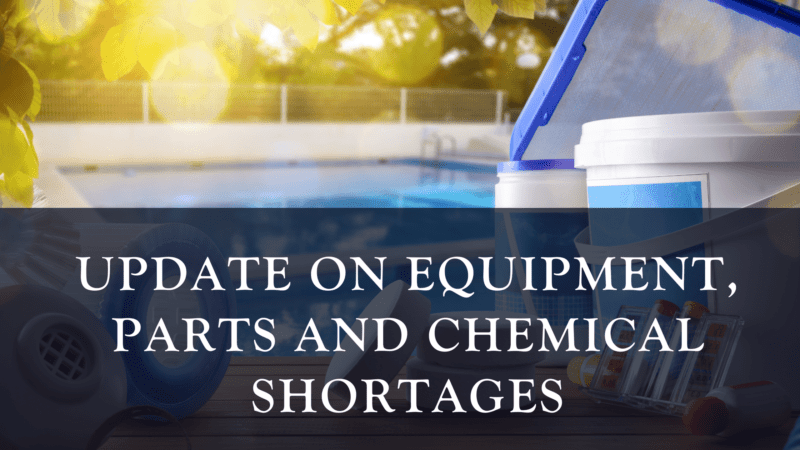 The 2020 and the 2021 seasons have seen a lot of industries hit with shortages from manufacturers, and ours was no exception.
Chemicals, plumbing, liners, solar blankets, maintenance equipment and winter blankets were all included in these shortages. By the end of the season, we saw some of these items trickling in, and some never arrived. If we didn't have it in stock, it was hard to come by.
We did take some precautions last year by ordering more stock than we have in previous seasons, as well as we brought in products from other manufacturers to keep everyone in their pools for the summer.
What to expect and how we are trying to help.
This season, we do anticipate shortages once again.  We have attempted to alleviate the situation by not only ordering more than we typically would, but we also took the time to order our products earlier than usual in case there are raw material shortages again this season.   At this time, we have received some of our orders, and are expecting more over the coming weeks. 
What can you do to make sure you have a stress free pool season?
As we recommended last year, we are suggesting that you double check your inventory and shop early.  Take stock of what you have left over for chemicals and check on your equipment to be sure they do not need to be replaced.  We can help you assess an approximation of what you will need for chemicals based on your history.  If you would like help figuring out what you should stock up on please send us an email, with what you have on hand (Remember chemicals are non-returnable for liability purposes).
When placing an order, you may shop online through our website at www.rrpools.ca, or you can phone or email in your request.  We have our click n collect lockers available, or you can choose to pick up in store.  Our hours are Tuesdays from 9am to 5pm and Saturdays from 9am to 1pm for the winter months.
We look forward to a great 2022 season and hope we will be able to help you find exactly what you need to enjoy your retreat!