Safety Covers — More than just for safety
I don't think we could finish safety month without talking about the safety cover. A swimming pool safety cover is more than just for safety, it will transform your backyard, keep costs low, and keep your family safe.
There are two types of safety covers; the common winter safety cover and the automatic safety cover. Both are awesome covers but have two separate seasonal uses.Let's look at the winter safety cover this week.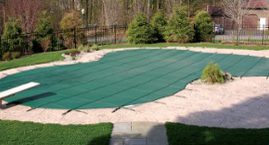 You may not have seen them in person but almost all pool owners have heard of the cover that holds an elephant over an inground pool. That may not be the best idea for the longevity of such an investment but I can tell you the investment is well worth it.
A safety cover is a spring loaded, fairly taut cover that is meant to hold the weight of a person if they accidentally walk across it. Its use is primary for the winter but it can be left on when you are on vacation in the middle of the summer, even with the pool running.
The cover attaches to the deck and water features via straps attached with a spring to an anchor drilled into the deck. This can be installed in wooden, concrete and stone decks and features and on both shaped and rectangular swimming pools.
The biggest benefit of using a winter safety cover is, yep you guessed it, safety! Kids, dogs and deer can walk across this cover without falling into the water. If you have ever pulled a dead raccoon or dog out of the pool in the spring you know what I am taking about. This cover keeps everyone out, keeping your family safe- What a peace of mind!
Of course the other major benefit is how clean the pool opens up. Oh my, some pools are just so green or black when opened due to the leaves. This helps alleviate the mess of leaves, reduces clean up time and chemical usage to bring the pool around. These covers are now the go to with every pool install we do.
There are two types of safety covers, mesh and solid. We started out selling a lot of solid covers with the mesh screen to drain the water, but in recent years have moved to the mesh covers. One, the mesh covers are less expensive allowing more pool owners to afford the cover, but more importantly, the mesh cover is not as heavy. Solid covers take a lot to move them around and store. Keep that in mind. And ensure you get the one with the mesh strip and not the cover pump. You do not want to be going out in a snow storm to unfreeze that pump line multiple times a winter. Brr. One note of caution: mesh covers should be opened early and closed late to avoid algae growth. But that's when you should open/ close a pool anyway.
My favourite part of a safety cover is that it looks so good. Most of the time you may not be thinking about aesthetics, but hey, you look at your winter cover for at least 3-4 months without any snow on it. That ugly black or blue tarp covering the pool. It is a little irksome with all that green grass around it. What if you could get a colour that suited your backyard or deck? Green for a heavily treed backyard? Tan or grey to blend in with the deck? Blue because it is your favourite colour? This cover looks fantastic.
Choose a brand that has a great warranty, strong springs and fabric. We use Coverstar for both our winter safety covers and automatic safety covers and have had good success with them. Click here for more on colours, options and information on Coverstar.
This fall consider an upgrade to your old black or blue cover. This is a purchase where pool owners come back the next year and say "why didn't we do this sooner?"
The safety aspect is the reason you buy it, but the look and functionality will be the reason you LOVE it.