Robotic Cleaners! R&R Pools finding you more ways to save money
Want to save time and money?
Saving time and money, who doesn't like that? Looking after your pool should be quick and painless. Would a vacuum that can scrub your walls while filtering your water and giving it that extra sparkle while you wash the car or cook supper be something that will make your life easier? Robotic cleaners are new to the market, helping you save money and time throughout the season.
What is a Robotic Cleaner:
Robotic pool cleaners deliver automated high performance pool cleaning- effectively and efficiently. Every robot combines advanced technologies with proven reliability so you can enjoy a constantly clean pool with little effort. Robotic Cleaners have consistently been at the forefront of innovation. As every pool owner needs change, new technologies and equipment that matches their lifestyles. We at R&R Pools carry both inground and above ground robotic vacuums.
One of the Robotic Cleaner lines we carry for inground pools at R&R Pools is:
Dolphin robotic pool cleaners have their own pool filtration system. Moving freely around the pool, Dolphin robots remove debris and dust from the water while scrubbing the pool floor, walls and waterline with an advanced pool brushing system, effectively removing algae and leaving the pool water crystal clear.
The Dolphin DX3

Cost approximately 15 cents a day to run
Revolutionary Lightweight Design
cleaner is equipped with pre-installed software that systematically scans your pool shape and surface for more efficient cleaning
smartly designed swiveling cable to eliminate cord tangling
light that turns on as soon as the attached dirt bag reaches its maximum capacity. The indicator will also activate in case of clogged filter.
analyzes, scrubs, and vacuums the entire pool surface within few hours only
All Surface Cleaning for Vinyl Liner, Fiberglass and Concrete Pools
Easy to clean Debris bag
60 foot cable cord
18 month Limited Warranty
One of the Robotic cleaner lines we carry at R&R Pools for above ground pools:
Smartkleen Robotic Pool Cleaners, with their high performance/low energy engineering, use very little power and cost just pennies to operate! They help the environment even more by reducing pool chemical consumption and increase water conservation by reducing the need to backwash pool filters.
The SmartKleen: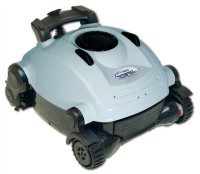 Click the link to watch a short video
http://www.youtube.com/watch?v=t0wNq1g3UrY
Floor-Specific Cleaning
Revolutionary Lightweight Design
Designed Specifically for Aboveground and Smaller Inground Pools up to 14' x 28' x 6' Deep
Intelligent Navigation – Does Not Require Walls to Change Direction
Direct-Drive Motor for Greater Traction
Brush-to-Port Suction for Thorough Vacuuming of Acorns, Leaves and Fine Debris
All Surface Cleaning for Vinyl Liner, Fiberglass and Concrete Pools
Quick-Drain System for Lightweight Removal From Pool
40' Power Cord
Extra-Large Filter Bag Capacity
2-Hour Auto Shut-Off
Two Year Limited Warranty
ETL, CSA and CE Approved
R&R Pools has been working hard in finding the best products for you and your family, to help you save money and time for the years to come. Giving you the opportunity to have the quality family time buy the pool that you so very much deserve.
For more information on ways to save money, please contact us at R&R Pools,  902-876-2773 or by email info@rrpools.ca.