Relax in a Winter Paradise
The Benefits of Owning a Hot Tub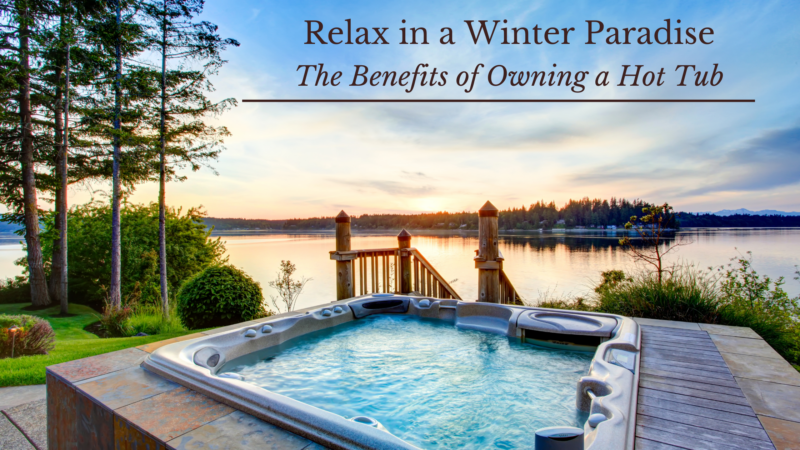 Finding a way to relax after a busy holiday season, or a prolonged week at work can be as simple as enjoying a soak in your hot tub or spa. Sitting in your favorite spot or reclining back in the lounger, drink next to you, soft music playing in the background, watching the stars above or the snow lightly drifting around you. It is paradise in your own back yard, but what benefits does a hot tub offer, other than the relaxation at the end of a long day?
Stress:
Who does not have stress these days? When we have stress, we know the best way to relieve stress is through diet and exercise, releasing endorphins. What a lot of us do not know is that hydrotherapy does this as well. A regular routine of soaking in your hot tub can wash that stress away.
Headaches:
Headaches are not always stress related. So, if you have a headache the best place to get rid of it is in the hot tub. The increase in your body's blood flow from the dilated blood vessels will make you feel better in no time.
Arthritis:
The warmth of the water and the healing from the jet pressures help restore the movement in your joints giving you the freedom to move around without so much pain. According to the Arthritis Foundation, "the soothing warmth and buoyancy of warm water make it a safe, ideal environment for relieving arthritis pain and stiffness." Muscles and joints benefit the most from the increased blood circulation provided by streaming warm water in hot tubs. Skin and muscles loosen and relax, and the body naturally heals damaged areas through improved blood flow to injuries.
Sleep:
The National Sleep Foundation has done studies that have proven that a 30-minute soak in your hot tub enjoying the hydrotherapy, allows people to fall into a deeper sleep and at a faster rate. These same people not only fell asleep faster but stayed asleep longer. People suffering from a history of insomnia benefit the most, waking up rejuvenated and ready to start your day. Anyone that has ever experienced insomnia knows how a good long night of sleep makes a world of difference.
Add in some Spa Scents for some added Aromatherapy benefits as well. There are different scents available for different types of ailments.
Anxiety:  Lavender, Jasmine, Rose
Brain stimulation:  Rosemary, Juniper, Sage
Bruises:  Lavender, Chamomile
Colds or Flu:  Eucalyptus, Pine Fir
Depression:  Rose, Lavender, Jasmine
Insomnia:  Tangerine, Geranium
Low Energy:  Eucalyptus
Migraine:  Peppermint,
Muscle Pain:  Rosemary, Lavender, Nutmeg
Skin Ailments:  Eucalyptus, Chamomile
Stress:  Rose, Jasmine, Lavender
Sometimes it's not an ailment that you are trying to cure with a scent, but the want to reminisce and the scent that may invoke that special memory for you, allowing you to drift away in relaxing thought after a tough day at the office, or stuck in traffic.
So as your week draws to a close, ensure your chemicals are balanced and choose the scent best for your relaxation time. Plan the perfect winter paradise and just enjoy.