When it comes to safety, you can never be too careful.  This is why we have made June safety month here at R&R Pools.  So before the season gets into full swing and the parties are happening every weekend, refresh your safety knowledge on water and chemical safety.
Water Safety
Water safety is a huge concern for everyone.  Follow these tips and you can greatly lessen any chances of an accident.
Adequate Adult Supervision!  A child can drown in as little as 2 inches of water. If you must leave the pool area for any reason such as to answer the phone or get a towel, take your child with you.
Be careful of backyard pools in your neighbourhood; a child could wander off to play and if a gate is not closed, your child could be in jeopardy of drowning.
Enroll children in swimming lessons taught by trained instructor.
Watch children and adults as they are using slides, diving boards or jumping into the pool. Head and back injuries are likely to transpire during these activities.
Pool Rules: 
NO running                                         NO glass
NO food or drink                              NO peeing
NO shoving                                         NO shallow diving
Alcohol can slow down response times and make you more vulnerable to drowning and other injuries.
Accident Prevention Suggestions:
Arrange swimming lessons for all family members.
Restrict access to your backyard pool area and ensure your fence meets local by-law requirements.
Always swim with a buddy and with adult supervision
Do not use slides on above ground pools
Stay within sight at all times when children are in or around any body of water
Ensure your fence and gate locks are up to code
ADULT SUPERVISION IS THE PRIMARY LAYER OF SAFETY!
 Safe Handling of Chemicals
Chemicals required for your pool help to make it clean, attractive and safe to use, but remember that the chemicals are potentially dangerous and may present hazards if not used properly.  Carefully follow the manufacturer's instruction for the use and storage of your pool and spa chemicals.
Here are a few tips for chemical use and storage:
Keep all chemicals out of reach of children.
Before using chemicals, read the labels and directions carefully
Storage
Chemical reagents for test kits should be replaced each year.
Keep the original lids on all chemical containers, and make sure the lids are closed tightly when not in use.
Do not stack different chemicals on top of one another
Store chemicals in a clean, cool, dry, well ventilated area from other materials such as garden and lawn maintenance chemicals and equipment. (A mixture of pool chemicals and fertilizer can cause a fire or explosion.)
Keep acids away from other chemicals.
Do not store chemicals near the pool heater.
Keep liquid chemicals away from dry chemicals.
Wash your hands thoroughly after using chemicals.
Usage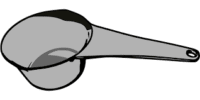 Never mix two chemicals together. Use a clean scoop for each chemical, and never combine material from "old" and "new" containers.
Always add chemicals to water, never add water to the chemical.
Follow label instructions for usage – either using a suitable feeder or distributed across the pool surface, or diluted and poured into the water.
Never add chemicals to the pool while someone is using the pool.
Carefully clean up any spills with large amounts of water to dilute and wash away the chemicals.
Wash out empty disinfectant containers before disposing, to eliminate any dangers of fire, explosion or poisoning.
Do not inhale dust or fumes from any pool chemicals. If necessary use protective devices for breathing, handling and eye protection.  Promptly wash off any residue which get on your skin
Never reuse old chemical containers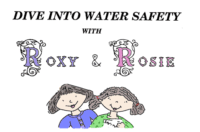 We also encourage you to pick up a copy of "Dive into Safety with Roxy and Rosie" in our store to help teach your children the importance of pool safety.  Originally designed by Cindy Redden, this coloring and activity book is a great way to start teaching your children about the safety concerns around the pool and backyard.
For more safety refresher tips, please check out our other blogs on our website at www.rrpools.ca, where you can find a safety checklist, electrical safety, water fitness safety tips, pet lovers safety tips and safe entertaining.