Problem of the Month: Gross Pool Covers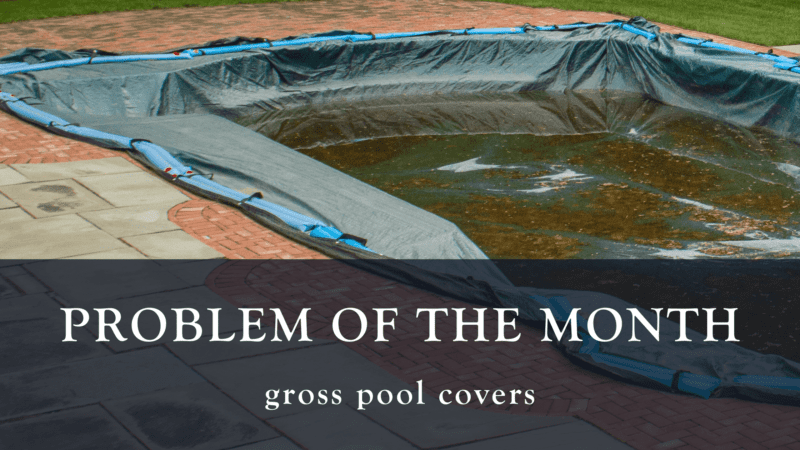 What to do about it?
Stow Away is used to clean and eliminate odours from your swimming pool cover. No matter if you are opening or closing for the season, this cleaner will work for your cover – Solar blankets, winter covers, safety covers are all protected with the use of Stow Away. Removing common soils and stains that have accumulated throughout the season. It will also keep small animals from building a nest inside your cover while in storage. Mice hate it!
Prevention:
Cleanse and freshen your pool cover before putting it away for the season. This will extend the life of your pool cover, no matter which type of cover you have. It will also deter rodents from building a nest inside of your cover in the off season.
Problem Solver:
Remove cover from pool and spread on lawn, driveway, or deck. Check the cover for any damages, worn areas, or holes, be pro-active so you can order a replacement if needed for next season. Apply BioGuard's Stow Away at full strength over the entire cover and brush clean. A nylon bristle pool brush and telescopic pole work well for this purpose. Rinse off loosened debris with water. Fold the cover and squirt the product between each fold. Store folded cover in a safe place such as a tote or bin. If you do not wish to perform this task yourself, this is a service we can offer with pool openings and closings, just mention on the form you fill out for the service team that you want this service provided!
Product Details:
Stow Away – is a cleaner and deodorizer that allows for storage of wet pool covers, which prevents them from sticking together when folded and discourages issues such as mold, mildew, and rodents. It will extend the life of most swimming pool covers. Recommended to use on both winter covers and solar blankets.