Problem of the Month: Filter Cleaning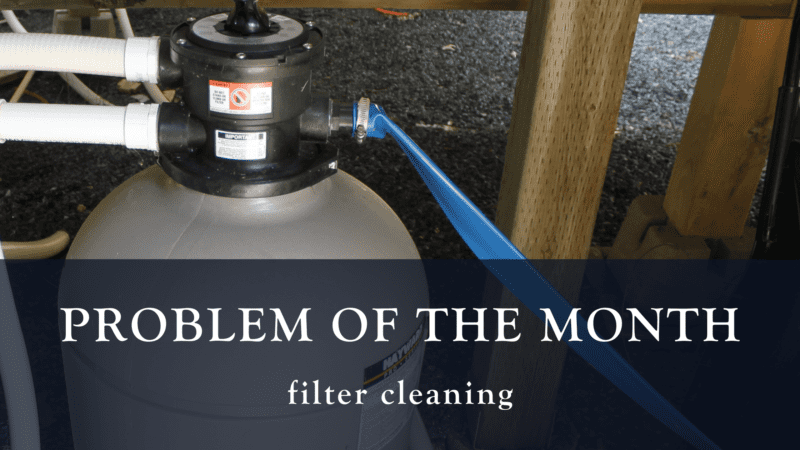 What is it?
Filter cleaning is the chemical cleaning of your sand (or glass) filter media or your cartridge filter. The pressure gauge on your filter will provide you with an indication on when to back wash or rinse your pool filter, but over time our filters will require chemical cleaning. It is typically recommended to chemically clean your filter once per pool season.
Prevention:
By properly caring for your pool filter you will note a greater filter efficiency, clearer water, and an increase in the life of your filter media.
Problem Solver:
If you have not chemically cleaned your filter this season, or perhaps you have a cloud issue that you just cannot clear, use BioGuard's Filter Brite to chemically clean your sand or cartridge.
Sand Filters
Tip-Easier to have a friend give you a hand then to do it yourself!
1. Add Filter Brite to a 4L bucket of water.
2. Turn the pump off and remove the lid (for aboveground pools-use the shut off valve in front of your pump)
3. Turn the pump back on, with lid off
4. Pour the mixture into the pump
5. As soon as all the water is in, turn the pump off and put the lid back on the pump
6. Leave pump off overnight
7. In the morning, backwash the pool for 5 minutes and rinse for 30 seconds

Cartridge Filters
1. Add filter Brite to a 10L bucket of water.
2. Soak cartridges overnight
3. Rinse cartridges
4. Let cartridges dry before using them.
Cartridges will need to be cleaned more than once a season. When the pressure rises 8-10 psi take a garden hose and remove the debris from the filter. Have 2 sets of cartridges on hand so you can alternate between them. Tip- the cartridges fibers will tighten as it dries!
Product Details:
Filter Brite – Used at least once per season, Filter brite will promote greater filter efficiency, helps keep water clear and increases the life of your filter media. Works with Sand, Glass and Cartridge filters.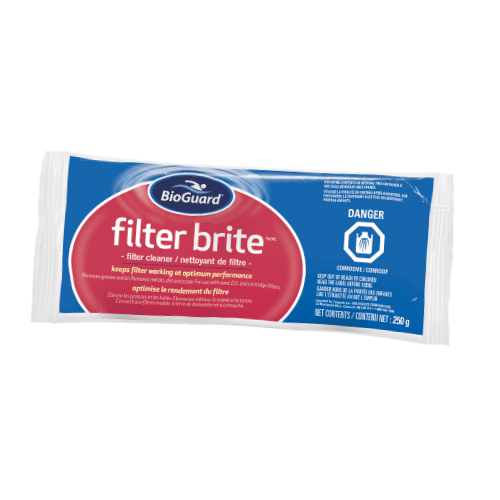 Not interested in doing this yourself?
We offer a filter cleaning service. You can find out more here: https://www.rrpools.ca/same-day-filter-cleaning/