So you've got floating speakers and underwater chairs, but although there's a lot of cool stuff in your pool, what about what's beside your pool? That's right, poolside accessories are just as important as the ones in the water. If you want to truly make the most of your poolside space, take a look at our (surprisingly affordable!) ultimate poolside must-haves of 2017.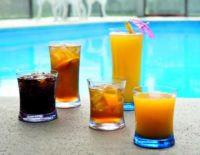 Strahl beverage-ware: Nothing says whatever like paper cups, so if you're having a pool party or even just sipping with your bestie in between dips, put that liquid in something stylish with Strahl. Billed as 'the world's best alternative to glass,' Strahl glasses are actually made of polycarbonate, but look and feel like glass, right down to the lack of join lines. With a range of product lines from beer steins to champagne flutes to martini glasses, there's no excuse not to be elegant this summer. And on a practical note, Strahl can go in the freezer as well as the dishwasher, for easy post-pool cleanup. Best yet – we have stock in-store!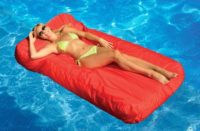 Sunsoft pool lounger: Okay, so this lounger is a bit of a cheat – it can go in the pool with you, and with this much comfort, you'll be glad it does. No more slipping and sliding on plastic inflatable surfaces. The lounger's special Sunsoft fabric lives up to its name, with a cotton sheet-like feel that makes floating around on its firm inflated surface feel kind of like lying on a waterbed.
MIDE toy storage net: If you love having tons of pool toys but don't have a cabana to store them all, ditch the clutter with an award-winning toy storage net from MIDE. You can use them indoors too, but really, these sturdy, stretchy nets are a poolside godsend. Made of heavy duty, moisture-resistant Marine Grade netting, they easily hold all your pool floaties, gadgets, and toys. Bonus: keeping everything up off the ground means not tripping over toys or using valuable deck space for storage because the net hangs from any fence.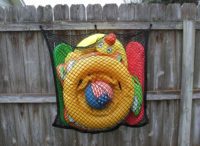 Tribu outdoor furniture: Ever wonder how Europeans create such edgy design interiors? We don't have the answer to that, but now you can bring posh Euro style outdoors with luxury outdoor furnis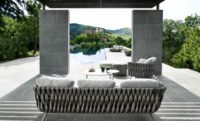 hings from Belgian design house Tribu. The splurge item on our list, Tribu is sold all around the world and is known for its 'elegant modernism, distinctive purity and impeccable quality' – definitely qualities we would look for in poolside furniture that has to look great while taking a beating. With such practical features as water-repellent cushions, special water-resistant seams, and UV-repellent (fade-resistant) fabrics, as well as incomparable softness and luxury, Tribu has pieces to suit every taste. Try the Tosca – you'll have to resist the impulse to drag it inside!
Napoleon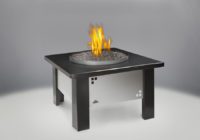 glass patio fire heater: On those suddenly-cool evenings that have you wondering where the heat of the day has gone, do you send your shivering guests from poolside to inside? No need to do that if you have the stunning Patioflame by Napoleon. Stay out all night if you want; with up to 60,000 BTUs, this little flame packs a big punch for an extremely elegant patio heater. Unlike pole-mounted models that radiate heat far above your head, this is actually a little fire for gathering round the Tosca and rubbing your hands over. It's available in natural gas or propane, and it looks absolutely gorgeous.
The bottom line: pools are meant to be enjoyed to the fullest, and any accessory on this list will remind you how sweet it is to be a proud pool owner. Enjoy!