Poolscaping Design Considerations: What Every Pool Owner Ought to Know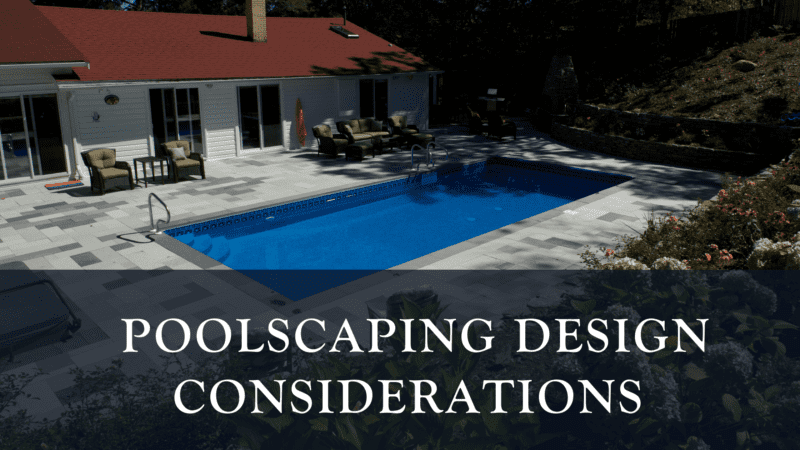 Are you thinking of getting a backyard pool or revamping the current one? If you answered yes, chances are you are currently in the design stage, which we can all agree is highly thrilling. There's usually so much to think about, from the poolscape themes and functions to the pool amenities. To answer your most pressing design concerns, we've prepared this guide to poolscape designs to ensure you're pleased with the end product.
Poolscape Design Elements
Four primary principles guide poolscape designs:
Safety. Safety is perhaps the most significant element, especially if you have young children and pets. The best solution is often building a fence that'll surround the pool. Several designs exist, including PVC and aluminum. Remember to select the fence material that won't suffer damage from your pool's chemicals.
Privacy. For privacy, fencing or adding plants will do the trick as they'll prevent passersby and neighbors from peering at your compound.
Function. If you're a professional athlete, your poolscape design will differ from someone who's installing the pool for leisure reasons.
Aesthetics. A quick search on Pinterest, and you'll discover the exciting custom poolscape designs that exist, such as guitar and mickey mouse-themed pools.
Poolscape Design Considerations
Even before we get to the design tips, it would be wise to ask yourself the following questions:
How do you plan on using the pool? Will you use it for entertainment or workouts?
Do you want your swimming pool to complement your home's design?
Where do you plan on building your swimming pool? Will it be at the front or backyard?
Do you intend to use your pool all year or just over the summer?
Do you need storage?
Will your pool have easy access?
What themes, colors, foliage, and art do you like?
What's your repair and maintenance plan?
What's your poolscape design budget?
1. Poolscape theme
While there are numerous designs to choose from, you wouldn't want to end up with a poorly integrated yard. Before you get started, it would help if you settled on one style out of the four standard themes- modern, Mediterranean, traditional, and tropical. You can then choose from the unlimited styles within each poolscape theme.
If your house has a traditional design, we recommend going for classic color palettes such as red and white. On the other hand, if your home has a contemporary design, a modern themed pool will give the outdoor space a more cohesive look. Consider going for minimalist designs while also taking advantage of geometry.
2. Shape
Similar to your poolscape theme, your pool shape choice should complement your home's design. For a traditional swimming pool, we recommend an L-shaped design or the classic kidney shape. For a tropical-themed swimming pool, a freeform shape would complement the entire outdoor space.
3. Pool deck
The pool deck's design matters more than you may think. While there are several options to choose from, such as tile and concrete, your final decision must meet the key elements mentioned above. It would be wise to choose non-slip flooring to increase safety.
Let's not forget your swimming pool's accessibility. Because if you decide to have your lawn leading to the swimming pool, there's a high chance of transferring debris every time you get into the pool. Therefore, you may want to consider having walkways.
4. Foliage
The foliage type around your pool is another key consideration to make. You first need to find out which plants thrive in your region. Secondly, decide which plants complement your poolscape theme. Also, you would rather go for plants that shed less and require less maintenance.
There are lots of design considerations to make during the poolscape process. Planning is key as it helps you include as many features as you'd wish and overall ensures you dot the I's and cross the t's. To choose the design that best matches your lifestyle, we recommend talking to the experts at R&R pools. For more details on inground or aboveground poolscape planning, call us now on 9028762773 or email us here.