Pool Maintenance: As easy as 1-2-3
The new Smart Pak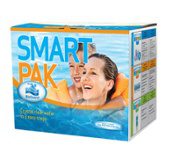 Wouldn't it be wonderful if everything was this easy? BioGuard's Smart Pak, using the BioGuard 3-Step Program Kit is designed to make your pool a simple pleasure in just 5 minutes. Before beginning weekly maintenance, be sure the pool water is balanced, the pump is operating properly, and the fi lter has been properly cleaned. The following 3-step program takes just a few minutes and should be done once a week to keep your pool clear and sparkling:
Step 1: Sanitize with Silk Smart Sticks®
Add Silk Smart Sticks with Smart Guard to your skimmer to kill bacteria continuously. BioGuard Silk Smart Sticks are the Smart Choice for keeping your pool water safe and clear. Because they last up to twice as long as ordinary stabilized chlorine sticks and pucks, in most cases they need only be added once a week. Just drop the recommended number into the skimmer, and you can relax knowing that your family and friends are protected while they swim in your pool.
Step 2: Oxidize with BioGuard Smart Shock
A smarter way to shock, oxidize, buffer and clarify, multifunctional Smart Shock also kills and inhibits bacteria growth. Special blue algae-fighting crystals kill and suppress algae. Better still, swimmers can re-enter the pool in as little as 15 minutes after treatment with this premium product that requires no mixing or pre-dissolving.
Step 3: Prevent algae with BioGuard Banish
This specially formulated algaecide works with other the elements of the BioGuard 3-Step Program Kit to prevent algae before it starts. No mixing or pre-dissolving is necessary. It doesn't evaporate or stain pool surfaces. Long-lasting BioGuard Banish works even harder when you need it most—especially during mid-summer when water temperatures rise.
Want to be enrolled in the GREEN FREE GUARANTEE? Contact us at 902 876 2773!
As taken from the 2012 Backyard Escapes Magazine