Is it time for a liner replacement?
Is your liner looking a little faded? Maybe it already has a few patches that you don't find very appealing. Maybe it won't stay in the track or possibly it is coming up in age and you know this is going to happen sooner or later.
At some time in its life your pool is going to need a new liner. And planning for it is a lot better than an unexpected expense mid-July before little Johnnie's birthday party.
Installing a new liner is the equivalent to a home make-over. It will make your pool look brand new. It is an exciting renovation for both the original pool owners and the new pool owners who were not overly particular about the former owners' choice. This is your time to put some personality back into the pool and have it reflect your taste and decor. This is also the time to consider what you like or don't like about your pool, as now could be the time to change it.
How long does a liner last?
Above-ground liners typically last about ten years. In-ground liners about fifteen years. It may be more, it could be less. Factors such as the quality of the product, how the water balance was maintained and if the liner has seen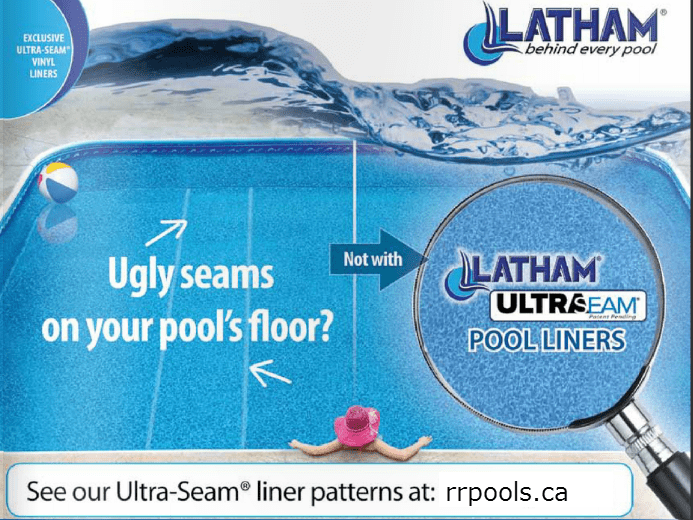 any accidents factor into the lifespan of a liner. It's not unheard of to see a 20 year old above-ground liner or a 25 year old In-ground liner. Some oldies are goodies, but we don't know which one is which.
We typically start talking about liner replacements at the eight year mark for above-ground pools and at twelve years for In-ground pools. The liner itself may still be in good shape but renovations can be expensive and planning for such an expense just makes sense. This gives time to budget and think about what you really want.
Consider other renovation items- now is the time to do it!
Ever wanted lights, different steps, more decking, a heater or a safety cover? If you have, you probably said "someday!"
Now may be the time to do just that!
Some items can only be installed at the time of a major renovation. Lights and certain steps are such examples. Additionally, it may be more convenient to bundle everything together if you are financing this project. And if you are ready to remake that commitment to your pool you may think it's now or never on the other items you have always wanted.
When to renovate?
If you have time to plan a renovation we suggest first thing in the spring or in the fall. This suggestion is mainly to ensure you have a full season of family time by the pool. This also reduces water and chemical loss saving you money.
Once the season is in full swing wait times are to be expected before services and renovations can occur.
Do you SAVE or Finance?
This is a bit of a personal question and a question of if you have time to plan or if you have to react.
We offer financing though FinanceIt or can take payment through multiple other methods. No matter how you decide to approach your renovation we are here to help you make the right decisions for your family and your budget.
So what does your new pool look like?