Introducing the Algae Kill Pack – All you need to fight algae in a box!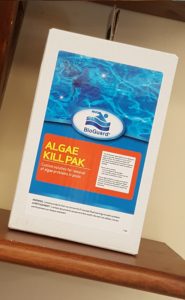 Bundled all together at a discounted price of $99.95 plus taxes. Available in store today!
Dealing with algae can be frustrating and expensive but sometimes it happens. We've put together the best products for quicker cleanup in an easy to-go "Algae Kill Pack" box for when "it" happens.
So what to do? And why should you use this?
The WHY is simple. Bioguard chemicals are high quality, low filler water care products. They've been designed to work fast, using less and saving you time, money and frustration. And in a time like this that's what you need – a solid attack plan!
The WHAT is a little more complicated but doable once you know the drill.
First thing is to ensure the pool is running and the blanket and heat is off with your return(s) and skimmer functioning properly – all parts required! We may have you backwash your filter to start. Depending on the state of the pool we may recommend that you vacuum to waste or drain to remove the excess algae.
The key to any algae problem is brushing. You want to ensure you brush the pool top to bottom, concentrating on the walls and step. All debris needs to be removed from the bottom of the pool before adding the chemicals. Then we recommend adding the Powerchlor Shock, Erase Killer Algaecide and Pool Tonic Quick Clarifier. Instructions can be found in the Algae Kill Pack kit
Do not backwash during this time. We want to allow the filter to get dirty, and if you have a sand filter, remember the 8 psi rule. Allow the gauge to go 8 psi from your starting number before considering cleaning.
We also suggest strip testing or using your drop test kit to "check" your chlorine level after 24 and 48 hrs. Anything less than a 3ppm of chlorine means a call to the team to get their expertise. You may have a chlorine demand problem that needs to be addressed.
Once the pool has cleared you can round off your attack with Filter Brite Filter Cleaner. This will ensure there will be no remnants of algae hiding in your filter. We include detailed instruction on using the filter cleaner in your Algae Kill Pack.
What's incl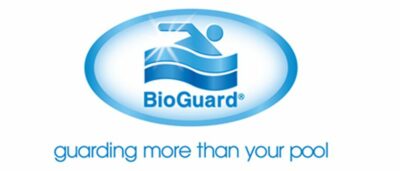 uded?
1Kg Power chlor Shock
1L Erase Killer Algaecide
1L Pool Tonic Quick Clarifier
1 Bag of Filter Brite Filter Cleaner
Additionally, there are detailed written Instructions inside the box from the R&R Team on what to do, how to use the products, and how to clean your filter. Keep these instructions for future reference.
If you get an algae bloom don't panic! We can fix it and these are the products both Bioguard and our team recommend. Post-crisis we will take the time to go over the closing, balancing and weekly regiment with you to prevent any further problems in the future. Algae doesn't have to be threat to your swimming time. Just ask our team how!