How & Why to Clean your Filter Media
At the beginning or end of each pool season you should chemically clean the media in your swimming pools filter. By doing this you will reduce your chemical consumption, improve filter filtration and lengthen the life of your filter media.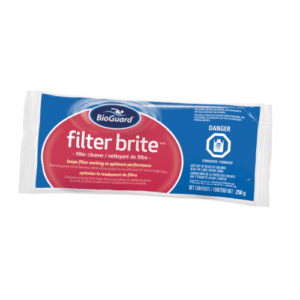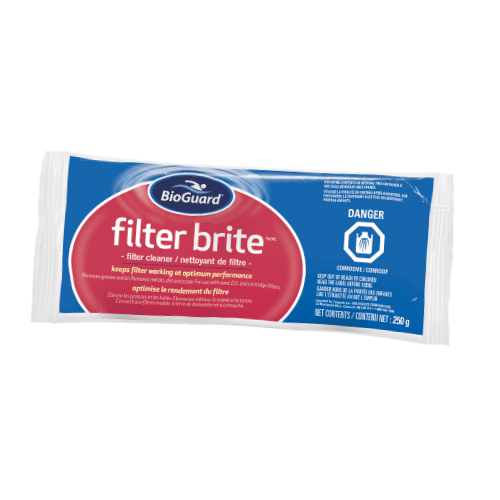 Filter Brite removes grease and oils from sand and filter cartridges.
Promotes greater filter efficiency
Helps keep water clear
Helps reduce future maintenance
Lengthens the life of the filter media
Sand Filters
Tip – Easier to have a friend give you a hand then to do it yourself!
Add Filter Brite to a 10L bucket of water
Turn the pump off and remove the lid (for aboveground pools-use the shut off valve in front of your pump)
Turn the pump back on, with lid off
Pour the mixture into the pump
As soon as all of the water is in, turn the pump off and put the lid back on the pump
Leave pump off overnight
In the morning, backwash the pool for 5 minutes and rinse for 30 seconds
Cartridges will need to be cleaned more than once a season. When the pressure rises 8-10 psi take a garden hose and remove the debris from the filter. Have 2 sets of cartridges on hand so you can alternate between them.
Cartridge Filters
Tip – the cartridges fibres will tighten as it dries!
Add filter Brite to a 10L bucket of water.
Soak cartridges overnight
Rinse cartridges
Let cartridges dry before using them There you have it. Easy and straightforward instructions on how to keep your filter clean and working in tip top shape.
Have more questions, send us an email or give us a shout at 902 876 2773.