Help! My swimming pool is losing water! Do I have a leak?
Yep! Or more likely, probably. Typically if if you think you are losing water you probably are.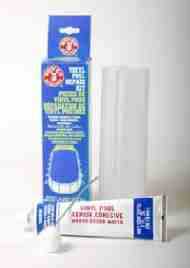 There are a few exceptions to this rule of course. You could be losing water to evaporation in a hot and sunny summer, or maybe you spotted water by your heat pump which gives off water as part of the condensation process. But how do you tell if its evaporation, condensation or if it is something to worry about.
Very Good Question… Lets find out shall we?
Testing
To test to see if you have a slow leak, place a bucket of water outside next to the pool with tape at the current water line. Then place tape at the pool's current water line. If the water in the pool descends much more quickly in the pool then in the bucket over the course of a few days chances are you may have a leak. Keep in consideration any splashing and backwashing that may be done in this period.
For a more detailed explanation on the bucket test and even a video check out our other post How to perform the bucket test.
So now that you know you actually have a leak and it is not condensation or evaporation lets find out where you are losing water.
Where is the leak coming from?
Skimmer – use epoxy or glue to fix or replace if badly cracked/damaged.
Equipment – Check the fittings and caps, look for trinkling water and cracks.  Replace any damaged parts, and o-rings.
Tip: Using a silicone base lube with prevent premature aging of the o-rings and gaskets. We carry Jacks Lube in store. Use just a little and never consider vaseline.
Plumbing- tighten or replace leaky parts
Accessories such as slides, water features and lights
Liner- must find the leak and use underwater glue and patching to fix
Lines or main drain- call in the professionals
For tips on fixing leaks check back next time!