Heat up your Summer!

Is the temperature of your pool making you feel more like you're doing a New Years Day Polar Dip instead of being enveloped into the warm waters of your vacation paradise?
Let's talk about the different options available to heat your pool so you can dive in for some relaxation and fun this season.
Liquid Pool Covers
A liquid pool cover, such as BioGuard's Smart Shield, is an effective way to reduce water loss and maintain water temperatures.  It works by creating a thin, invisible layer on the water surface.  The invisible layer will separate in water as someone swims through it but will come back together once the water becomes calm again.
Solar Blanket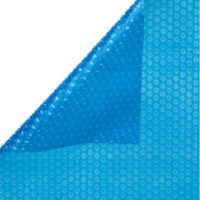 Solar blankets are an inexpensive way to help heat your pool, when properly used.  They keep the heat that the pool accumulates during the day in the water at night. If you are using a heater, a solar blanket is a must have item, as you can lose 50% or more of the heat gained overnight due to the heat transfer into the cold air. Imagine the steam rising off a lake in the wee hours of the morning. You don't want that happening to your pool!
Pool heaters aside, the sun alone can drastically change the overall pool temperature during the day, and the solar blanket can keep that heat in overnight allowing you to enjoy more pool time the next day.
Solar Pool Heating Panels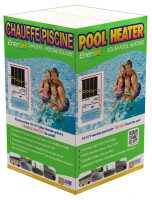 Solar heating panels are very efficient and a cost-effective way to heat your pool.  As they are designed to use your existing pool pump to move water through the panels and back into your pool, they will reduce your heating costs and extend your pool season. These panels can be installed on the roof, on the ground, or on a rack, anywhere that can be reached by the sun.
We recommend Enersol Solar Panels as they are manufactured using Solarprene rubber, making them sturdy for our Canadian winters and is resistant to saltwater, harsh UV rays and pool chemicals.
Swimming Pool Heat Pumps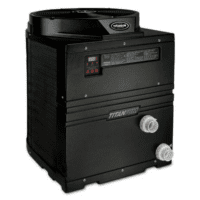 A Titan heat pump (our preferred brand for pool heat pumps) transfers heat from the sun warmed outside air to the pool water, rather than generating heat as a fossil fuel or electric heater does.  The exclusive design can save pool owners up to 80% in heating costs versus alternative heating systems.  Generally providing you with 4 to 5 units of free energy for each one unit of energy consumed to operate.
Talk to our knowledgeable staff members to find out which solution is best for your pool and family and extend your swimming season!