There's no denying that your backyard pool is (or will be) the focal point of your outdoor space, but that doesn't mean you should neglect the rest of that space. After all, no matter how much you wish it, you can't swim all the time – and other members of your household may occasionally enjoy other outdoor activities, like gardening, BBQ-ing, or just chillaxing on dry land. So now that we've eliminated converting your entire property to an underwater retreat, and since adding sand and palm trees is probably impractical for the rigors of the east coast climate, what else are you going to put in your yard? Here are some ideas to get you going:
Before Landscaping, Think Hardscaping
That's right, before you rush out to Farmer Clem's for a few hardy perennials, think first about the foundation of your design scheme: the hardscaping (a.k.a. masonry). Obviously you will want to use materials, designs, and colours that ultimately complement your pool deck, although you can also use contrasting materials to differentiate areas of your backyard for other activities. Any structures that you build, such as retaining walls, walkways, water fountains/features, patios, steps, arbours, and fences – from materials like brick, natural stone, wood, and concrete – will fall into the hardscaping category.
The idea with hardscaping is to blend it with your softscaping (landscaping) efforts so that they merge seamlessly, meaning that your flora works beautifully with the fixed elements, such as borders, seat walls, and walkways of your yard. You can DIY when it comes to hardscaping if you're very handy and know how to operate heavy professional equipment, but most homeowners don't undertake major hardscaping projects themselves. Hiring a professional will allow you peace of mind as well as freedom of expression, whether you sketch out your ideas on a napkin or show your contractor 1,000 internet-sourced pictures of your ideal hardscape. Here are some of ours:
Five Ultimate Must-Have Hardscapes for Your Yard in Nova Scotia
Courtyard living room. If you love entertaining outdoors but wish you could do it outside of swimming pool season, you need to think outside the box (of your house). With a covered outdoor room, the sky's the limit; you can keep it simple with seating and a fire pit, or go for a mini-house with a dishwasher and flat screen TV. The idea is to enjoy the 'outdoors' – think glamping – all year.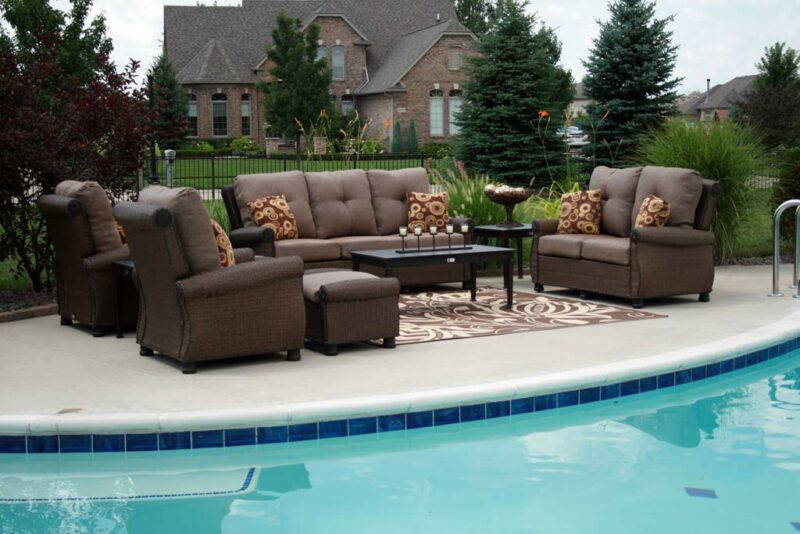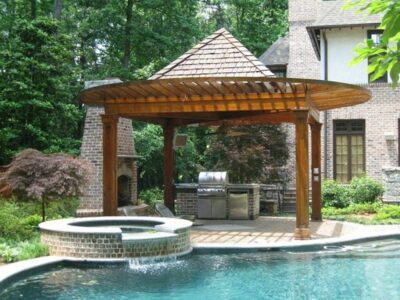 Pavilions, gazebos and pergolas. In summer, they're cabanas; in fall, a place to carve pumpkins; in winter, perfect for sipping hot chocolate and watching the snow fall; in spring, an ideal vantage to have romantic poetry read to you while cherry blossoms glide to the ground. You know, if that was at all an option. The point is a pavilion has year-round possibilities that might be a perfect fit for your family.
Fire pits. These can range from simple pits/outdoor fireplaces to complex, full outdoor kitchens with wood-burning pizza ovens, or huge gas grills ideal for concocting your BBQ masterpieces. Just imagine the possibilities!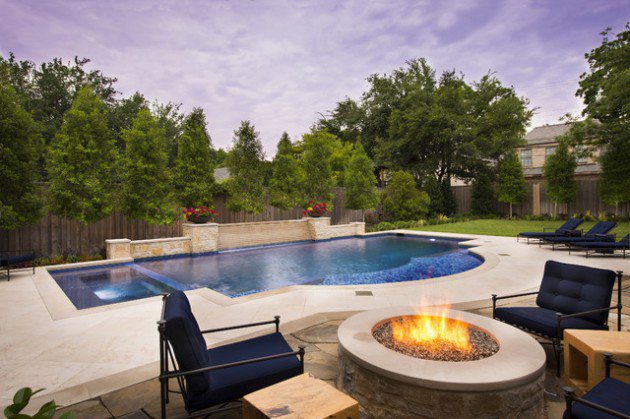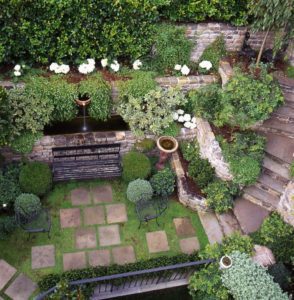 Sunken gardens. Take advantage of natural variances in grade to stagger different areas of your yard; in this case, a water feature like a fountain or a pond works well with a sunken design (say, two or three stone steps leading down to your water feature and seating area). Keep the flowers, grass, and shrubs up top.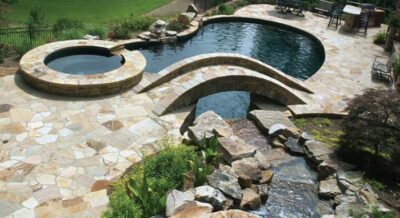 Bridges. Consider a concrete bridge or stepping stones to link your pool with other areas, such as lounge areas, sunbathing spots, and eating spaces. It's a nice touch, adding an element of surprise to the simplest backyard.
With gorgeous eco-friendly products like these elegant water-permeable pavers among the many building materials to choose from, there's no reason not to engage in some gorgeous hardscaping that makes your pool really pop. Go on and be the envy of all your neighbours!