Glam up your Backyard Swimming Pool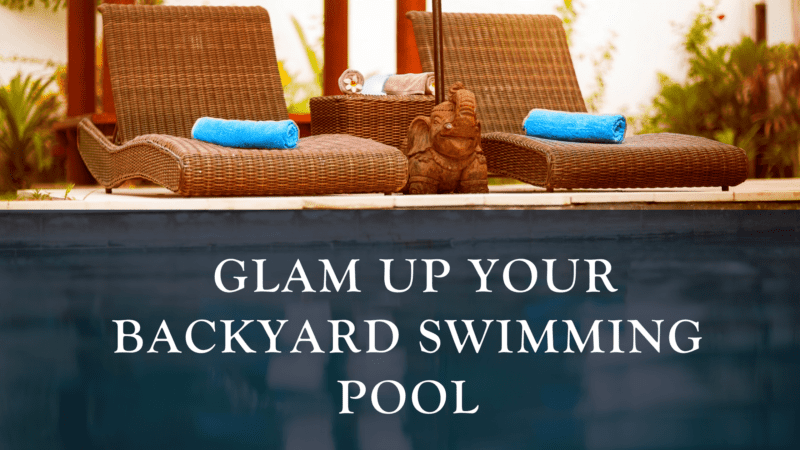 Is your backyard looking lack luster or unloved? Decking, fences, and worn-out furniture are getting you down? Glam up your backyard and then kick back poolside with these design inspiring tips!
Furniture Fixer-Upper
If your backyard furniture is bringing you down, it may be time to replace, or up-cycle your patio furniture into a new show-stopping piece.
New paint or stain can help revive the furniture to feeling new again. Adding some relaxation and design to your backyard space. Recover cushions using an outdoor linen, making sure it is a lasting fabric that will uphold to UV rays and rain. Is your old table looking tired? Try using some stone, pebbles or broken plates and create a beautiful mosaic table. Pinterest is full of ideas on different applications that will freshen the seating area up.
Add Some Love with Plants
Remove the weeds from the surrounding plant beds and spruce up the area with some beautiful plants, shrubs, and flowers. Adding the beauty of nature can change the feel of your space and make it feel more tranquil. Plants and shrubs are a way of concealing a fence and can attract beautiful birds into your area as well. Check out the internet to discover what birds are attracted to what shrubs and flowers.
Cleaning the Deck
Cleaning the deck can help to transform the space and help make it feel new again. If you plan on pressure washing the deck, cover the pool first to keep out as much debris as possible from the pool. This is especially important if you are using a cleaning solution. Before beginning, you may want to check with the supplier of the decking material on what best to use for cleaning the surface as different surfaces may react to different chemicals. Try to pressure wash away from the pool area. Be sure to check the water chemistry once you are finished the cleaning to ensure the water is properly balanced and sanitized.
Make your Pool Shine
Your swimming pool is one of the main focal points of your backyard and is key to making the yard glamorous. Give your pool a brushing and vacuuming. Skim any leaves and debris from the water. Check your chemistry of the water or take a sample to your local pool professional for testing. Once the water is balanced and sanitized to ideal ranges, use a clarifier to help ensure your pool sparkles and shines.
There are lots of ways to glam up your backyard. Planning is key as it helps you include as many designs as you wish, based upon your budget. Turn to Pinterest, and the internet, to see what appeals to you and your lifestyle.