Fall in love with your pool all over again!
Thinking of renovating your pool this season? Everything old can be new again with a quick call to R&R Pools in Timberlea. Their qualified staff are experts in pool renovation and can transform an older pool into something brand-new in usually just a day or two, changing the look and feel and bringing new life and longevity to your backyard oasis.
Typical upgrades include the installation of a new liner and equipment like pumps and filters, or installing a salt chlorine generator. Times have changed and new equipment can be functional and save money, too.
Most liners usually last about 15 years; they wear over time or simply go out of style. Installing a new one extends the life of the pool and refreshes the dynamic, totally renewing your backyard experience.
If you are due for a liner replacement, now is the perfect time to consider how your swimming pool will be used for the next 10 years. Make it exciting again! Add some style, function and ambience that will change your swimming experience. It is very easy to incorporate upgrades such as lights, steps, an automatic cover, and water features, even going as far as decreasing the pool depth or size if that's what you want.
Absolutely A Value-Add
Derek Redden, owner of R&R Pools, has 30 years in the industry and says that doing a liner replacement is absolutely a value-add for clients. "It's like doing the inside of the house, like repainting," he says, "and it feels like you've got something totally brand-new. Sometimes when we're doing a liner replacement, we put in a set of stairs and remove the diving board, or maybe people are looking for an automatic safety cover that keeps debris out, saves money on chemicals and time on cleaning."
He adds that some opt for a salt chlorine generator, which adds a bit of salt to the water, giving it a softer and smoother feel on the skin. R&R can install new energy-efficient or variable speed pumps that give customers more control over the amount of power they use, offering convenience and cost-efficiency.
His team can also retrofit the decking, changing patio pavers from concrete to wood or vice-versa to reinvigorate the surrounding environment.
"There's always a budget," Redden says, "and we let customers know what they could be doing before we begin any project."
Safer And More Modern
In 2011, David Mann and his wife Karen had R&R Pools remove old-style ladders and install a new liner, custom vinyl over plastic four-foot steps, two remote controlled high-tech Rainbow Rays lights in the deep end for night use, fountain jets in the shallow end for therapeutic sounds and visual interest, and cornerstones.
"Our backyard is basically our cottage," David says, "with a gazebo and barbecue. We bought our house in 1999 and the pool came with it, but it was in terrible shape."
He contacted R&R Pools in 2000 and asked them to redo the decking and install a new liner. That allowed the Mann's to inspect the walls and determine that everything else was in good shape. The liner replacement in 2011 reinforced that estimation and, with another new liner in place, David says, "The pool will continue on now for another 10 years or more. And the good news is we don't have to go down old-style ladders. It's a safety issue."
"Children and older people have a lot more difficultly going down ladders, and the steps we installed are wider and safer; a much better platform than a narrow ladder. The renovation gives a new look to the swimming pool, makes it more modern and edgy," he says, completely satisfied.
"R&R Pools have been with me since the start," he adds. "We enjoy their service and obviously know how good their technicians are. The service has been excellent and I have no complaints. I'd recommend them, and have recommended them."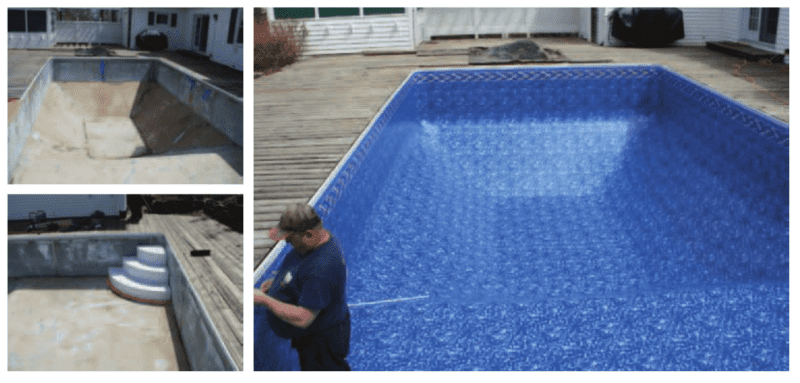 Ready for a change?
For more information on renovating your pool this season, give R&R a call at 902 876 2773 or e-mail