Dive into creating a lifetime of memories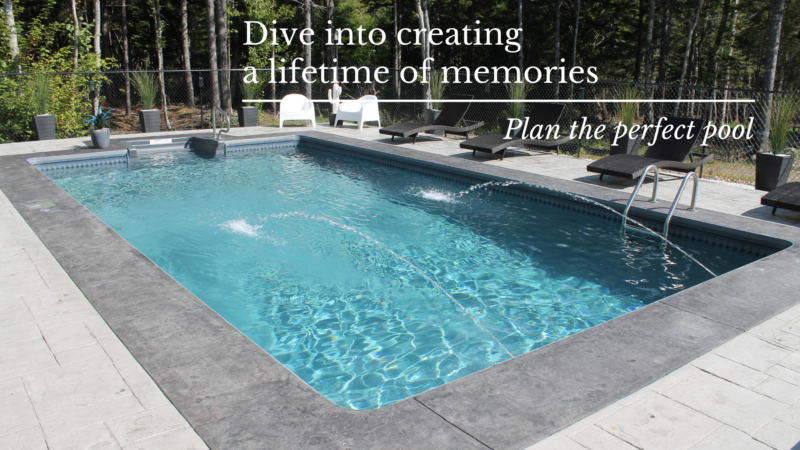 Plan the perfect pool
Are you looking at installing a swimming pool and wondering how you can make it the perfect backyard paradise? No matter what size yard you have, you can maximize your ideas and develop a landscape that will create a lifetime of beautiful memories for you and your family.
How will you use the pool?
Begin by deciding what the pool will be most used for.  This allows you to decide on the size and shape of the pool.  If it is primarily going to be for exercise, you may want to consider a rectangular pool with a longer length to accommodate lap swimming.  A pool that is for entertaining and recreation may have you considering a larger pool, a shaped pool or perhaps a larger shallow end perfect for the little ones, and the elderly. 
A tanning ledge is also a great feature for those with small children and for those with mobility issues. Providing both a play area that is not too deep and a resting area within the pool, allows them to feel connected with the family, but keeping them in a safer zone. If there are mobility issues you may want to consider including accessibility features in the pool, such as a ramp.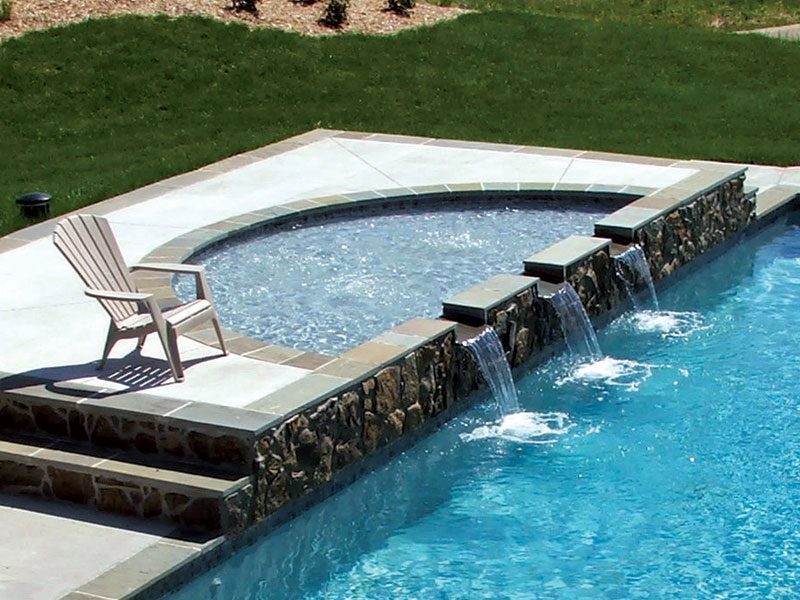 What government rules need to be followed?
Next, what are the by-laws for your area?  Ensure your vision for the yard meets the criteria set out by the government regulations.  How far from the property line does the pool have to be, what size fencing is required?  Before starting the dig to your pool, make sure that your plan follows the local by-laws, your pool professional should be able to help you answer these questions when you are ready to meet with them.
How do you envision your backyard?
Sketch out a few possible layouts for your pool and surrounding area. This helps you to envision what the yard will look like and if you can add in the outdoor kitchen or firepit area you have been dreaming about. Your sketches do not have to be that of an artist, just enough to give you thought on the placement of the pool in conjunction with the other areas that may be important to your household. Play area for the kids, shaded area for relaxation. Since this will likely be the only pool being installed for your home, make sure the yard layout will work for you now and in the years to come.
Take into consideration a few smaller (but important) factors.  Where does the sun spend most of its day in your yard?  Do you want the sun on the pool, or would you rather the pool be in the shade?  What will the view from the house out to the yard look like?  Where will your guests change, what will the path from the house to the pool be like?  What about privacy from your neighbors, how important is that to you?  Consider using your fence style and landscaping (remembering those by-laws as well) to help protect your privacy.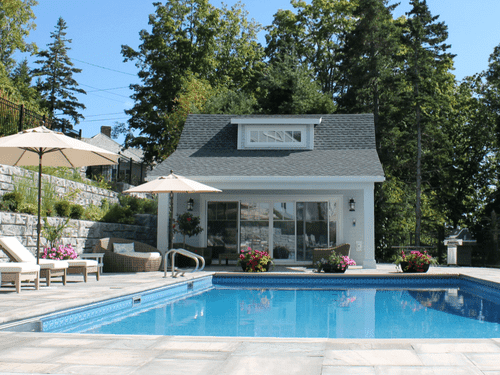 Speaking of landscaping, choose trees, bushes and flowers that work well near water. If you are hiring a landscaper to handle this aspect, ask if they are familiar with planting around pools. Although they may help you to choose some beautiful shrubs or flowers, if planted too close to the pool it may cause issues with the water such as pollen, cloudiness, and leaves. Add your decorations, trees and shrubs to the area and then step inside and make sure your view is still one of beauty before permanently planting those bushes that will block your vision while doing the dishes
Use the internet for inspiration
For more suggestions to build your perfect backyard, visit Pinterest, Houzz or websites like HGTV! They have some wonderful ideas showcased.  Once you know what appeals to your family, start diving into making those dreams a reality and creating your memories for years to come!