Celebrating 35 Years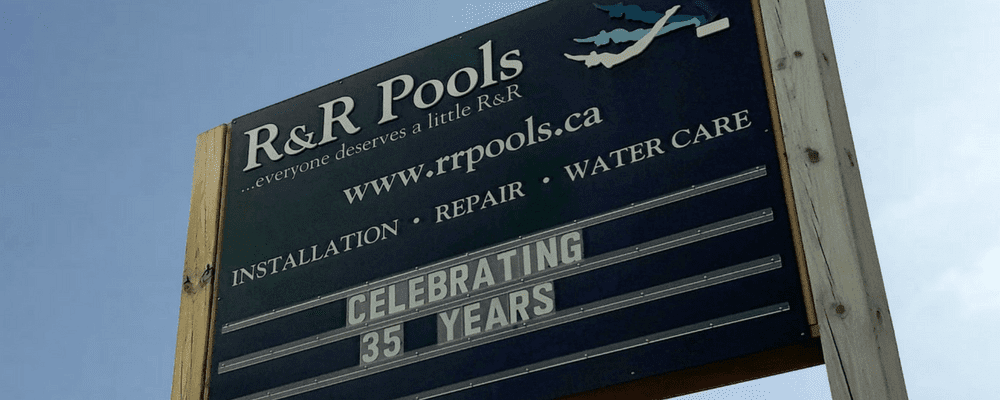 As we begin our 35th season here at R&R Pools we are reflecting on our history and how grateful we are for each of our clients. R&R Pools began as a dream and with a lot of hard work it has found great success.
Thank you for being a part of that dream, for the wonderful years and the memories. We are looking forward to another 35 years.
 We would like to share some highlights from a wonderful article about our roots written by Fred Sgambati.
This family-owned and operated business, started in 1983 by husband and wife team Derek and Cindy Redden and Martin Raffel, has installed approximately 1,500 pools and served more than 4,000 customers since then with one goal in mind: client satisfaction.
 Redden and Raffel installed eight pools in their first season, learning as they went, developing skills, knowledge and a client base. Raffel left the company at the end of the second year and Derek hired two employees after that to keep the fledgling venture going.
 Positive experience
With Derek installing the pools, Cindy working the retail side and a young family on the go, the company averaged between 40 and 50 installs a season, with quality service as its hallmark. Knowing what their customers wanted, providing a fair and accurate estimate of the project and delivering it on time and on budget created plenty of word-of-mouth advertising as well. The company's client base expanded.  A small operation became a going concern that involved hiring locally and eventually incorporating Derek and Cindy's two daughters, Kara and Brandy, and Kara's husband, Ryan, into the business.
 From 1984 to 2004, Kara worked with the company on an earn-it basis, learning the finer aspects of the business and developing relationships with R&R's many clients. During 2004-05, Kara was in the store on a regular basis and, in 2007, when Cindy became ill and subsequently passed away, Kara assumed a prominent role in the organization. Kara is now a partner at R&R Pools and the Atlantic Chapter President of the Pool and Hot Tub Council of Canada.
 Her husband, Ryan Fitzpatrick, has been with the company for eight years and is presently the R&R Pools Project Manager.
 Brandy, the quieter of the two sisters who prefers to be out of the spotlight, is R&R's Service Coordinator. She has been with the company for nine years.
 Commitment to customer service
R&R Pools is truly a family affair and each person has a specific role to fulfill. Derek likes to joke that he's the wheelbarrow and cement guy. Kara has the managerial and customer service aspect down pat and Ryan can jump into any situation because he's familiar with every component, from site inspection to installation and clean-up. Brandy is the first point of contact should anyone have any questions about their equipment.
 "Everybody is a part of it," Derek says. "There is a certain amount of dedication that goes with being a family business. Maybe it's coming in early if a customer is on their way to work or staying late if that's more convenient for the customer. It's all about looking after people, knowing what they need and providing that product or service as quickly as possible."
 Looking ahead, the future is bright for R&R Pools. The organization is in good hands with a solid second-generation team that is fully engaged in every aspect of the industry. "Having Kara, Brandy and Ryan there is super important."
For more, visit R&R Pools at 1949 St. Margaret's Bay Road, Timberlea, N.S.; call 902.876.2773; or e-mail: info@rrpools.ca.
To view the full article, download a copy of Backyard Escapes magazine HERE.