What Causes Poor Pool Circulation
Poor pool circulation can be the root cause of many unsolved water problems. On all accounts it appears that we are doing the right thing and adding the right products but we're missing something. And that SOMETHING is the reason the pool isn't coming around to its usual fabulous condition.
SO who, what, where, when does that mean? Good Question!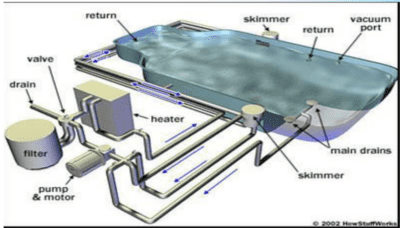 What is circulation?
Circulation refers to how your water flows through your equipment system and around the body of the pool. It starts with water in the pool, being sucked down through your skimmer, through the pump, filter, heater and back into the pool.
Why is it important?
Circulation is as important as chemistry and filtration but is
often overlooked when caring for a swimming pool. Think of these three items, circulation, chemistry and filtration as a three legged stool. Each leg is equal and if one fails, the stool falls. Lack of understanding how important the stool is prevents many from solving simple pool problems.
In simple terms, for optimal circulation the pump should be sized properly, running 24/7, the weir skimmer door in place and the complete returns pointed downward at a 45 degree angle. Regularly brush dead spots and encourage swim time.
Here is a guide on the top factors affecting circulation.
How long you run your pump – Should be 24 hours a day
Pump Size- This does not necessarily mean half, 1 or 1.5hp but how much water your pump is sized to move.
Pool shape- Shapely pools may not have the same circular water movement around the body of the pool
Angle and placement of returns- All returns should should be complete and be pointed down at a 45 degree angle away from the skimmer
Presence of the skimmer door (weir) – Must be present and functional to move the top 5' of water towards the skimmer
Dead spots- These are spots in the pool which do not get direct water flow. These spots can be stagnant and require more attention. Brush frequently.
The amount and duration of swimmers swimming- Movement of water increases circulation
Even though you can get away with 10-12 hours per day for proper turnover (how many times the entire capacity of the pool water goes through the filter), 24 hours a day is recommended to prevent algae growth. Stagnant water breeds problems. Poor circulation leads to water clarity and algae problems which can be expensive and result in frustrating down time. Timers are not recommended however if you have an inground pool you should strongly consider a variable speed pump to reduce your energy costs.
The best thing you can do is understand your pool's circulation and use these tips to work with your pool. This will ensure your family will continue to enjoy  impromptu cannon balls!
Having circulation, filtration or chemistry problems? Tell us all about it and we will help you with a personalized solution. Email us at info@rrpools.ca, or call our office at 902-876-2773