An Expert Interview on Safety Covers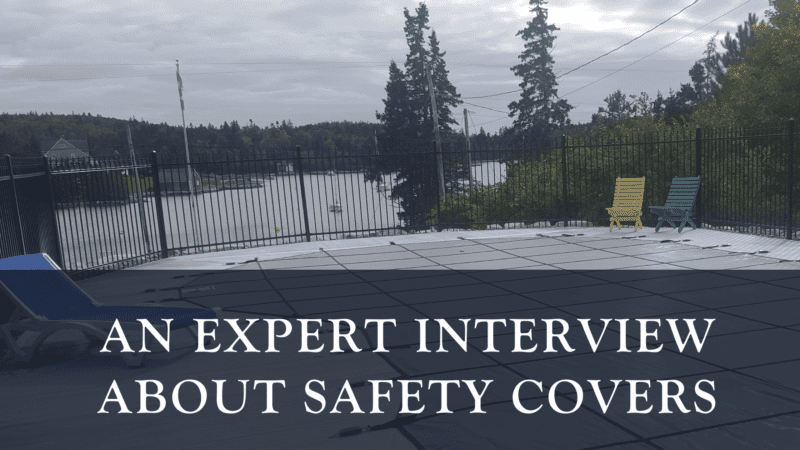 We have been encouraging customers to upgrade to safety covers for many years now as they are one of the most reliable ways to prevent someone from getting into the pool without supervision, such as children and pets.
Each safety cover is custom built to your pool. With their ability to allow precipitation to pass through easily, the water drains through to your pool, while keeping out the debris during the winter months.
We took our most frequently asked questions to Latham Pool Products where David Berger took the time to answer them for you.
When should a safety cover be replaced?
DB:  Damage, holes, no longer provides the ultimate safety factor
What maintenance is required for a safety cover, and how often?
DB:  Clean thoroughly when removed in spring, let dry before storing
Can I leave snow and ice built up on the safety cover over the winter?
DB:  Yes, need to make sure that water level below cover is at right height to support excess weight
Can my children play on the cover when it is installed?
DB:  Yes, but depending on weight, cover can sag and children likely to get wet feet. Need to be aware that potentially could cause damage.
What is the difference between a mesh and a solid safety cover?
DB:  Mesh allows liquid to flow through, solid retains all water on top.
How much deck space is required to install a safety cover?
DB:  By ASTM standards our covers can be installed with as little as 18" for a 12" overlap cover and 24" for an 18" overlap cover by using the patented RDM system
Does the deck material make a difference when deciding on a safety cover?
DB:  Yes, rough decks should have perimeter padding… concrete decks can use standard anchors, any interlock should use the tubes system as anchors
How long should a safety cover last before I would require a replacement?
DB:  Hard to put a time on it but if maintenance is kept up, it will last longer
Can a safety cover be installed by a homeowner, or is it recommended to have an experienced professional install the cover?
DB:  I always recommend a certified installer
If you are considering investing in a safety cover for your pool, contact our service team today at www.rrpools.ca or 902-876-2773 to schedule your safety cover consultation and measurement!