An Expert Interview on Robotic Pool Cleaners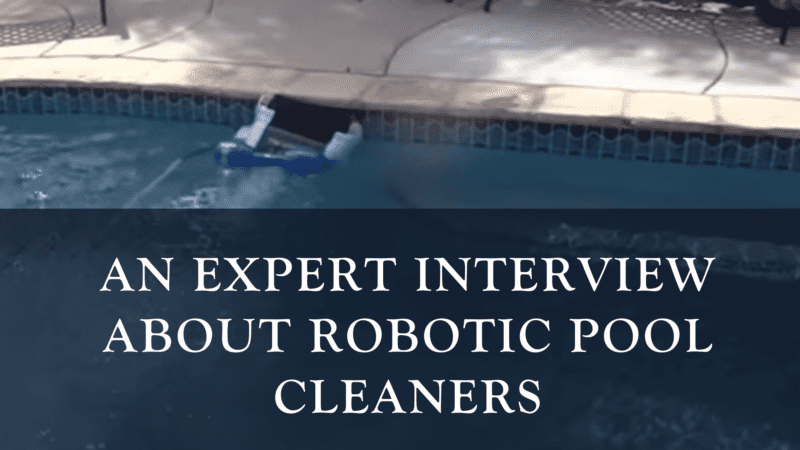 Robotic pool cleaners have become increasingly popular, each season, as pool owners keep looking for ways to enjoy their pool lifestyle rather than spending so much time working on their pools.
R&R Pools has a long-standing relationship with Hayward Pool Products. We carry many pieces of their equipment, and guess that you likely have at least one, if not more, of their products hooked up to your pool. Their robotic cleaners are one of the many items we have available to our clients and we receive a lot of questions about them. If you have been thinking about a robotic pool cleaner, this blog is for you. We have asked the expert, William Jasnich at Hayward to answer your questions and here is what they had to say.
Robotic Pool Cleaners
With so many choices for Robotic cleaners on the market these days, what sets the Hayward line-up of cleaners apart from other manufacturers?
WJ:  Hayward Pool Products continues to raise the industry standard for innovative, forward-thinking technology. The performance in combination with high quality-built products has established Hayward as one of the leading global manufacturers of robotic pool cleaners. As global demand for robotic cleaners began to pick up steam over one decade ago, Hayward acquired AquaVac Systems in 2007. AquaVac has been a well-established brand in the industry for more than 45-years. Since the acquisition, Hayward has continued to invest in research & development as its commitment to bringing the pool industry innovative products to maximize the total pool experience. 
Even hayward has different options available, is there differences based on pool shape / size, how should a customer determine which is the best model for their situation?
WJ:  When shopping for a new robotic cleaner there are various options to select from and each model does not have precisely the same features. There are several tips to help guide the best purchase decision; let us dive in: 
First, determine the pool surface (Vinyl, Fiberglass, Gunite, and Tile) and research the cleaner's application specification. 
Next, measure the pool, approximate depth and determine how long of a cord will be required for the cleaner to reach all areas. Further to this point, the power supply is recommended to be positioned at least 10 feet away from the pool edge – this should be factored into the decision. 
Third, determine what you expect the unit to clean – the floor, walls, tile-line and/or coves. 
A few additional tips a consumer should think about includes the size of filter, type of filtration (SpinTech Filterless, Cartridge, and Mesh), length of warranty, and overall quality. 
Is a robotic pool cleaner worth it in the long run?
WJ:  Yes! Robotic cleaners are worth the investment for anyone who would like to spend their time enjoying the pool rather than maintaining its cleanliness. Robotic pool cleaners are effective at removing large (leaves & organics) and small debris (dirt, sand, and algae). Some models of robotic cleaners offer the tile-line option. Just imagine no longer having to clean the scrub line by hand and/or noticing the discoloration organics may cause.  
How long can a client expect their robotic cleaner to last?
WJ:  It goes without saying, if the product is well-taken care of, the life expectancy will be maximized. A robotic pool cleaner would be expected to last upwards of 5 years and in many cases, as long as 8 to 10 years. As with any mechanical product, wear and tear should be expected and clients should understand the need to spend a few dollars on maintenance over its lifetime.
What is the most common part that requires replacement on a robotic cleaner?
WJ:  Without a doubt, the most common part that requires replacement on a robotic cleaner is the treads and/or brushes. Additionally, if the cleaner were equipped with cartridge filters, these would fall into the common replacement part category also. 
Can I always leave my robot in the pool, or do I need to remove it when swimming or adding chemicals?
WJ:  It is strongly advised to remove the cleaner from the swimming pool when not in use or when dosing with chemicals. The cord may act as a potential hazard, while chemicals in the long run may discolor and/or weaken the plastic shell.
What maintenance can I expect to have to perform to a robotic cleaner?
WJ:  Common maintenance would include emptying and/or washing out the filtration mechanism – ideally after each use. As a part of routine maintenance, it would be advised to inspect for potential obstructions in the impeller, tracks, and/or brushes.
Will a robotic pool cleaner cause damage to my vinyl liner?
WJ:  Robotic pool cleaners will not cause damage to the vinyl liner if chemistry is properly maintained. If the chemical levels (Alkalinity, PH, Calcium Hardness, and Free Chlorine) are not routinely kept in check, the water will pull chemicals out of the vinyl liner. This in turn will weaken the vinyl and may cause the robotic cleaner to remove parts of the vinyl liner pattern. 
Do you have any other tips on Robotics that you would like to share?
WJ:  Robotic cleaners can be an expensive maintenance product. It is always best to discuss options with your local dealer and reference this information on the manufacturer's website to ensure you select the right model for your application. While the cleaner will minimize the need to manually vacuum the pool, the homeowner should always ensure their chemistry is keep in check to maximize the total pool experience. It is a short season after all, folks!
Thank you for taking the time to answer our questions Will!
If you have any other questions or want to know more about Robotic Cleaners for your pool, you can reach us at info@rrpools.ca or call us at (902)876-2773.