An Expert Interview on Auto Covers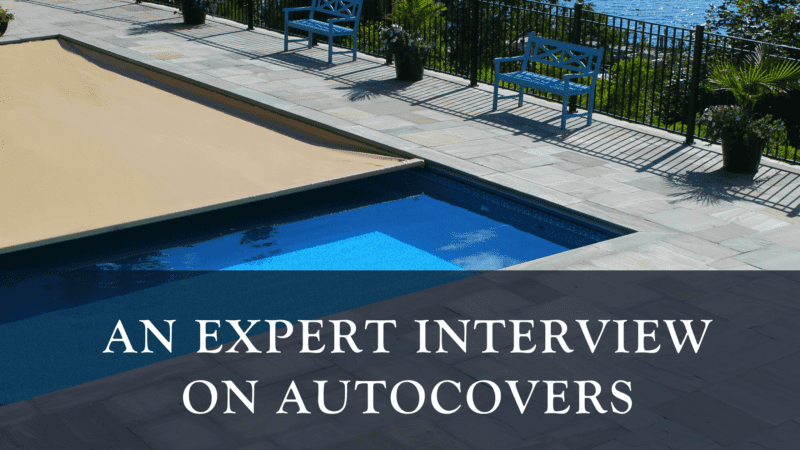 R&R Pools has been installing Auto Covers for our clients for many years and have come to love the quality and workmanship of the auto covers made by Aquamatic Cover Systems.
For this expert interview, we took our most frequently asked questions to Jeff Garrett of Aquamatic Cover Systems.
1. What makes an Aquamatic auto cover different from other auto cover manufacturers?
JG: Aquamatic Cover Systems manufactures an all fluid (Dual motor) drive system which eliminates the need for any linkage such as, clutches and shaft couplings rendering The Hydramatic to be the most reliable 2 directional pool cover available. Aquamatic Cover Systems has manufactured this direct drive, hydraulic drive unit exclusively for the past 27 years.
2. How easy is the maintenance on the auto cover?
JG: The Hydramatic requires very little maintenance, other than "common sense" maintenance. It is important to keep your chemistry in balance, don't roll up sticks or sharp debris into the cover, remove standing water and keep the pool cover vault relatively clean.
3. What are the benefits of an automatic pool cover?
JG: The benefits of the automatic safety cover are many. Safety is the primary benefit but what clients end up noticing & appreciating is that their pool is always clean, energy consumption from the pool is kept to a minimum, the pool is warmer, and the chemicals and water don't evaporate.
4. Can a liquid solar blanket be used with an automatic pool cover?
JG: Not recommended.
5. Can an autocover be used as a winter cover in our climate (Nova Scotia, Canada)?
JG: We suggest NOT using the Hydramatic as a winter cover as the water level in the pool is the support mechanism for the cover.
6. How much weight can an autocover hold?
JG: The Hydramatic is an ASTM certified safety cover and as such, must be tested to hold a minimum of 485 lbs. per sq. yard.
7. Do I have to remove rainwater and debris from the cover?
JG: It is advisable to remove standing water from the pool cover as standing water on top of a cover can be dangerous for a child. The Hydramatic comes standard with a rainwater removal screen built into the front of the fabric. An automatic cover pump is also supplied with every unit.
8. What is the expected lifespan of an automatic cover?
JG: With good care, the end user should expect 7-10 years of functional fabric life.
9. Will the chemicals I am adding to the water affect the automatic cover?
JG: The cover should be left open for approximately 12 hours when the pool is "shocked" or heavily treated with chemicals.
10. Can an autocover be installed on a shaped pool?
JG: An automatic pool cover can be installed on any shape of pool by using surface mounted tracks or customizing the build and installing the system into a "deck on deck" design where there is a secondary, rectangular deck built above the irregularly shaped pool.
11. I have heard that an autocover can help in saving money…how is this possible?
JG: Automatic pool covers can and do save clients a great deal of money, particularly when the pool is heated. By covering the pool's surface, the heat is trapped beneath the water surface, thereby passively heating the pool when the water is circulated. Also, the auto cover will greatly reduce evaporation, limiting water and chemical loss. One can also expect to reduce the "run time" of pool equipment.
12. Does an autocover help to heat the swimming pool?
JG: Yes. the fabric will get warm in the sun, transferring heat into the water and retaining that heat by lack of evaporation.
13. Do you have any other tips on automatic covers that you would like to share?
JG: It is commonly thought that an auto cover will drastically reduce design opportunities. There are many custom designed pools' that an auto cover can accommodate if we can help during the design phase. Please contact Aquamatic Cover Systems at 800-262-4044 for assistance with your ideas and let us help.
Thank you for taking the time to answer our questions Jeff!
If you have any other questions or want to know more about Aquamatic Auto Covers for your pool, you can reach us at info@rrpools.ca.