5 Simple Ways to Create Zen in Your Backyard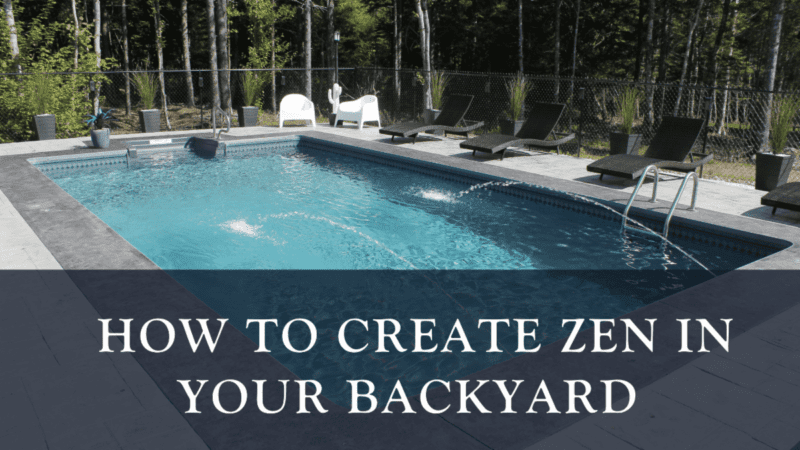 If you're a fan of action films, you may have noticed scenes where the protagonist visits a Zen temple. Typically, this happens when the person has 'lost their way' and requires some soul searching. In case you're wondering why, it's simply because Zen gardens are the epitome of tranquility, harmony, and focus.
While we don't expect you to prepare for some epic face-off, you, too, could benefit from having a Zen garden in your backyard. This garden would be perfect for days when you need to unwind after countless Zoom meetings and during snowy winters when you can't take a dip into your backyard swimming pool. Here are some simple ideas to help you create Zen in your backyard.
Creating a Zen Garden
To create an authentic Zen garden, you would need to follow the seven ideals: asymmetry, simplicity, mystery, stillness, naturality, magic, and austerity. You can achieve this through the following designs.
1. Create a dry waterfall
A dry waterfall, a.k.a. a karetaki, mimics the rocks you'd typically see in a natural waterfall. It's an excellent way of creating texture, and even better, it conserves water! You'll need gravel, rocks, and sand. A single cascade waterfall is perfect if your backyard is slopy. To build the cascade, you'll need to stabilize the stones using the gravel and embed them in the soil.
2. Rake the sand gently
Sand represents the dry riverbeds and will make a great addition to your dry waterfall. Spread this sand to level the uneven areas. Then add a few stones in random spots. You can use as many as you want unless you'd like to follow the ancient Zen garden principles that used 15 stones. Once complete, gently rake the sand using curves to create ripples that represent the ocean waves.
3. Place rock sculptures
You could opt to use rocks instead of placing stones on the raked sand. Again, it would be best if you avoided symmetry to give them a natural appearance. Rock sculptures allude to mountains. One thing to note is that each rock type has a different meaning. For instance, reisho rocks signify firmness, while kikyaku rocks embody the earth.
4. Incorporate plants
Your Zen backyard wouldn't be complete without plants. We recommend planting ferns, moss, or bamboo- which serve as a great enclosure. It would help if you also planted evergreens such as pine trees and Azaleas.
5. Other additions
For lighting, you should go with stone lanterns. For accessories, you could use wind chimes, luminous pebbles, or egg stones. Typically, you'll need to place seats in the middle; whatever art addition you use should mimic nature. This means you shouldn't use any painted sculptures, art, planters, and wooden items.
Takeaway
Zen gardens are excellent for every backyard, regardless of their size. Unlike other home gardens, Zen gardens require planning and research for authenticity. Ultimately, while a Zen backyard is about the correct placement of each feature, it is also about whether it brings calmness and amplifies your mental wellness.