What is an ocean water pool?
The nice soothing feel of salt water on your skin as you float around enjoying the cloudless blue sky. Relaxing, soothing, wonderful. You can bring this feeling right into your swimming pool. But there is a few things you should consider first.
An ocean water pool is the original salt water pool before the invention of the salt chlorine generators. The water is pumped up from the ocean to provide all the benefits on being in the ocean.
What is the difference between man made salt pools, ocean pools and traditional chlorine and bromine pools?
Actually, ocean water is not very different from regular chlorinated pools just like man made salt water pools are quiet close. There are a few things of course that are extremely notable.
Calcium. Calcium levels are extremely high in ocean pools (think unreadable on testing equipment). Pro: you don't need calcium, but the con is high calcium causes scaling and if you start to see any sign of scaling you should be put in a descaling chemical. Scaling decreases the life of equipment (think clogged arteries)
TDS. Total dissolved solids. Because we are using ocean water not only is there lots of salts there's lot of "other solids" too. This slows down the reaction time of sanitizers, so it is something to keep in mind. At this time the majority of water testing equipment on the professional and consumer level doesn't understand ocean water so it thinks we should drain the pool.
Sanitizers. You still are required to use bromine or chlorine pucks in an ocean pool. The salt cannot provide an adequate 1-3ppm. However you will go through a significantly smaller amount compared to any of type of pool.
Clarity- man made salt and ocean salt pools maintain better clarity due the low even level of sanitization. Water problems are usually resolved very quickly.
Increased breakdown of equipment: salt in any form creates a more aggressive environment. Concrete and plastics wear faster if not properly maintained.
In comparison to the traditional chlorine or bromine pool and the salt chlorine generated pool the ocean water pool defies some of the pool chemistry "rules". Having an experienced pool professional to guide you through the balancing is important as salt water can cause significant damage.
Minimizing chemical usage in an ocean water pool:
You still need to do everything the same, use chlorine or bromine (in lower levels), shock once a week and balance. Algaecide isn't always used in this application but it depends on your pools history. Water balance becomes crucial in ocean pools and you should be on top of your monthly professional test and your own personal weekly strip or drop testing.
Although the ocean water has slight antibacterial properties it is not enough to satisfy Health Canada's sanitizer recommendation of 1-3ppm of free chlorine or 2-4 ppm of Bromine. Salt does not turn into chlorine magically. You must use a chlorine or bromine stick or puck in conjunction with an ocean or fresh water pool, except when using a generator.
The most important part of maintaining a swimming pool is to ensure it is safe for everyone including those with the lowest immune systems- kids and seniors. Salt water alone just does not have that capability and will not be able to keep up with anything significant that gets into the water. Also, there is LOTS of algae in the ocean! So beware. A swimming pool is a large bathtub and needs to be treated accordingly no matter what type of water or application you use. I know I don't want to swim in your bathtub!
Who should have an ocean water pool?
Ocean water is very high in salinity- approx. 28,000 to 35,000 ppm and even more in some places. This is a far cry from the little amount of 3400ppm from the salt generator. It provides a nice experience in the pool, combining the soft feel on the skin and the buoyancy we are all familiar with.
It also has healing and soothing properties and a strong salt solution has slight antibacterial and antiseptic properties. A good salt bath has even been said to flush out toxins as you sweat!
If you would like to put ocean water in your pool you should live on the ocean. Pumping water up can be costly for new salt water each year. There are many ocean water swimming pools in Nova Scotia and I am sure elsewhere.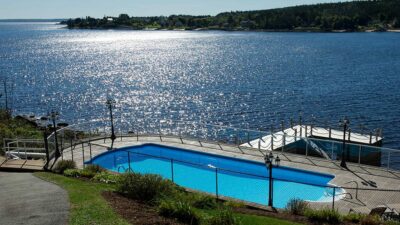 An aboveground pool should not be on the ocean. The majority of aboveground pool walls are metal and the corrosion risk is very high. Inground pools should have a polymer wall if the walls are at all exposed. This would be common with wooden decks and onground installations. Also be mindful of the chemistry on your swimming pool and the corrosion risks. This can quickly damage your leisure investment.
Ocean water feels wonderful on the skin and with the right professionals ocean water is a great add on to traditional sanitizers and makes for a wonderful experience.
For more information on ocean water swimming pools or any other question, please contact us or call 902 876 2773.