Hot new trends and a sneak peek for 2018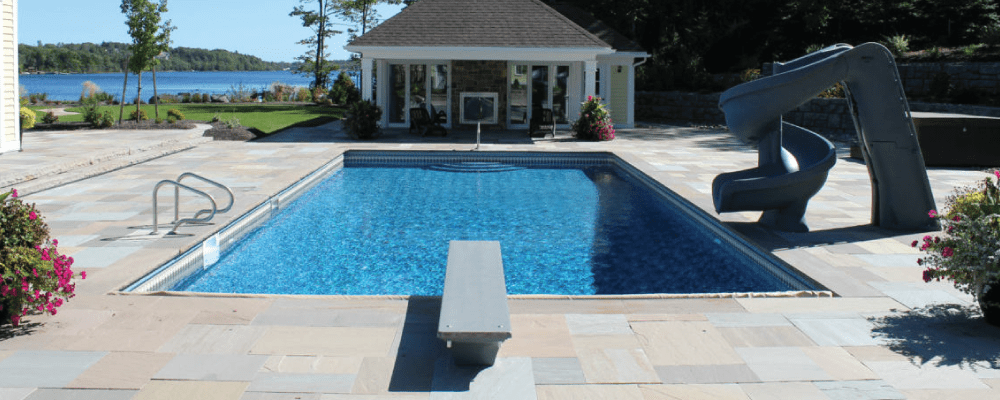 The staff here at R&R Pools have been working hard this winter to stay on top of the newest trends to bring a modern feel to your backyard retreat. Below is just a sneak peek of what the pool pros have found, check out the latest styles and hottest crazes this season has to offer!
For those installing a new pool:
Laminar Jets – Enhance your backyard with radiant streams of constant arcs of water that transform into dazzling colored lights at night. The gentle soothing sounds of the calm stream entering your pool provide a hint of sound to mask neighbourhood noises that may otherwise interrupt your relaxation. Unwind with the sound of water or entertain with an array of color and add a little elegance and awe to your oasis.
Tanning Ledges – Add a "WOW" factor to your backyard by installing a tanning ledge for your pool. A ledge can extend the recreation and relaxation options as they are the perfect area for lounge chairs or a children's play area. Cool off while indulging in the ultimate sunbathing experience.
Technology Finds:
VS OMNI Variable Speed Pump with Smart Pool Control – The VS OMNI Variable Speed Pump with Smart Pool Control is the easiest, most affordable way to add convenient scheduling and smart control to your pool. Easily installed in existing pools, they can control up to 4 pieces of equipment. Adjust pump speed, set water temperature, turn on/off pools lights conveniently with your smart phone.
Aqua Vac QC – AquaVac QC robotic cleaner features a new and contemporary design. Equipped with intelligent microprocessor-based technology, the AquaVac family is recognized for its superior performance in reliability and efficiency. AquaVac makes sure virtually every area of your pool gets that much cleaner.
Filter Media:
Glass Filter Media – Unlike sand, glass does not have a jagged edge. It attracts the finer particles using a slight negative charge on the surface, having the dirt, debris and oil cling to the glass media until a backwash is done to release the particles. Different from sand, where the dirt and oils commonly build up within the top 6 inches of sand, the entire filter bed of glass is used to catch particles. This allows for a larger load of contaminant as glass does not pack the particles as tightly as the sand counterpart, which may aid in less backwashing and less water being used per season.
Manufacturers state it should be changed every 10 years. (Whereas sand is recommended to be changed every 3-5 years.)
Fun and Games: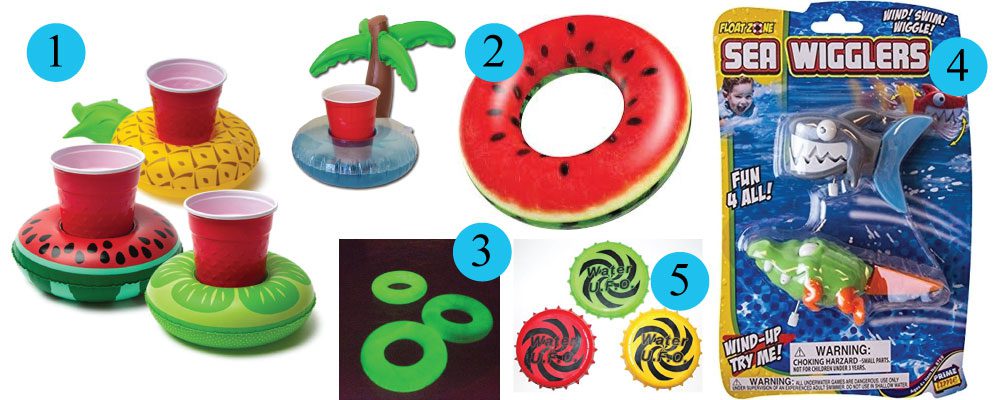 We are always on the look out for fun new toys and games that are perfect for poolside. Besides all the favorites from past seasons, here are a few sneak peeks coming in this season:

Floating Drink Holders – No need to get out of the water to run to grab a drink. Stay hydrated while you stay in the pool!

Watermelon Float – Relax in this refreshing new pool tube.

Glow in the Dark Pool Tube – Get Your Glow On!

Sea Wigglers – Keep the little ones entertained, in the pool or in the tub with these wind-up cuties.

Water UFO – Everyone will have a blast tossing around this UFO. Simply submerge the UFO in water and then toss it like a frisbee. Water will spray out from the water UFO.