Product Description
We have 2 pools currently available – one 18′ round and one 15×30′ oval.    
We do not have any information about pools for future years at this time.  We expect to have more information in October 2021.
Backyard Retreat  Resin Salt Compatible Above Ground Pool Kits
The Backyard Retreat is a true leader in resin pools. With innovative styling, Backyard Retreat is designed with absolutely no angular joints, and with alkaline-cleaned steel walls with a hot-dipped galvanized coating, Backyard Retreat is designed for years of corrosion free use. Walls are corrugated to increase strength and resistance.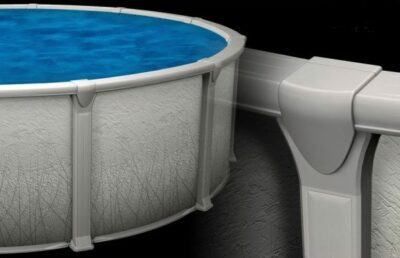 Features:
7″ Curved Synflex resin top rails.
6″ Wide uprights made of 100% Synflex resin, reinforced with embossed patterns.
1.5″ Resin bottom tracks and 1.25″ resin top tracks.
Synflex resin top plates.
Sturdy resin top caps with designer accent grill.
Hinged and grooved bottom plates.
Steel wall finished with Duratex 2000 anticorrosion paint.
Easy Installation
Warranty:  5 years full warranty against manufacturer defects.
After 5 years, 50% discount for the life of the pool.
Original Owner Only
We carry the 52″ in our Resin salt compatible Backyard Retreat model in the following sizes:
Pool Kit Includes:
Pool Wall/Frame
Liner: Full Print EZ Bead Liner (15×30′ Oval)
Liner:  Full Print Overlap Liner (18′ Round)
Hayward 1HP Ultra Pro Pump (1HP)
Hayward 21" Pro Series Filter & Sand
Deck Ladder
Solar Blanket [Blue], includes a 3 year warranty
Hayward Skimmer
Telescopic 8-16′ Pole
30′ x 1.5″ Swivel Cuff Vacuum Hose
25′ Backwash Hose
Pool Cove
Plumbing Hook up Connection Kit:

2 – 6′ flexible 1.5″ hoses
1 – Ball valve
6 – Clamps
3 – Adapters

Maintenance Kit:

Test Kit
Thermometer
Vacuum Head
Wall Brush
Leaf Skimmer
*Note: Above Ground Pool kits may take an additional day to deliver.
Installation Instructions

Click image to open/download PDF Instructions