How to Deal with Pool Supply Shortages in 2021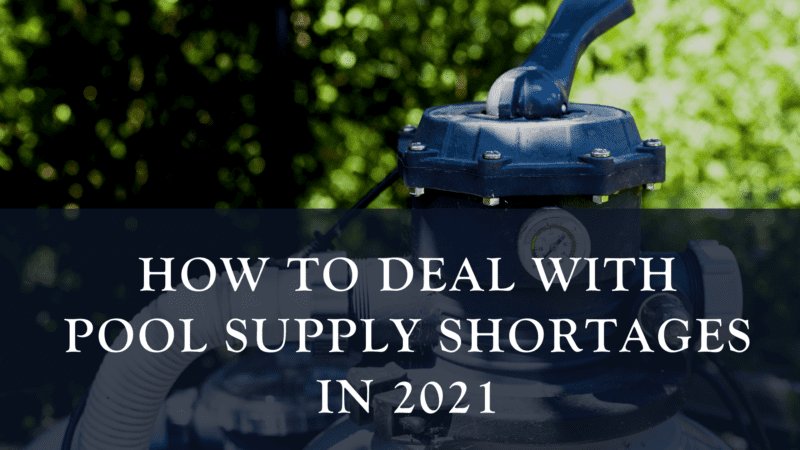 Mentioning that the world wasn't prepared for the lockdowns caused by the rapid spread of COVID-19 is an understatement. With the introduction of safety protocols such as social distancing, goods production and distribution disruptions have had an adverse impact on the supply chain.
So, as a pool owner, how can you effectively deal with potential pool supply shortages this year? Here's how.
Plan Ahead and Buy Early
Before the weather changes for the better, check your inventory and determine what chemicals you have left over from last season, and make a list of which ones you need to stock up on. Make your purchases early to ensure you have enough product to last your pool for the full season.
Adaptations & Alternatives
Due to the unprecedented pool supply shortages, the crisis has allowed the pool industry to evolve. You now have the setting to improve and modernize your practices—more so, how you treat pool water.
Secondary Disinfection/Oxidation Systems
Supplementing chlorine with other viable options makes sense, especially as chlorine may be in short supply.
Ozone generators help break organic contaminants, thus creating softer water in the process. Significantly stronger than chlorine, ozone generators prevent calcium scaling while working as a powerful oxidizer.
This process lowers your chemical usage by up to 60%. As a blue colored gas that contains three atoms of oxygen, ozone can kill and inactivate parasites, bacteria, and viruses. Besides, it can chemically destroy all water contaminants.
UV light produces rays that destroy contaminants such as bacteria, algae, and viruses. It alters their DNA, rendering them unproductive and then kills them.
Because the light is usually in graphite housing, you'll safely enjoy swimming without risking exposure to harmful UV rays. Now, bear in mind that the water also needs very little maintenance since it goes through your pool's filtration system.
A pool ionizer is a supplemental disinfectant system that releases microscopic mineral ions which control bacteria and algae in pool water. This allows you to reduce your chlorine needs. Clear Blue pool ionizer provides a safe and cost-effective maintenance solution that helps keep your pool clean.
The clear blue mineral ions are completely neutral so pH stays in range longer and is harmless to your pool equipment. However, as the minerals are copper and silver, you will want to ensure you visit your pool professional for a water test every 2 – 4 weeks, keeping the copper readings low while maintaining the water balance.
Salt Chlorination System
Thanks to the salt chlorine system, pool owners have an avenue to utilize salt to make the chlorine your pool needs. Using this approach gives your pool the crucial sanitization and also throws in some added benefits:
Eliminates harsh chlorine odors
The water feels softer on the skin
Eliminates the need to mix and store harsh chemicals
It doesn't discolor bathing suits
Using a salt system is a modern and efficient way of maintaining adequate sanitization in your pool. But remember, it can easily damage your pool components, to a greater extent, if you fail to notice when chlorine levels creep up. You'll also want to ensure you balance your water. It is recommended that you test your pH levels on a weekly basis, and have you water tested by a pool professional once a month.
Rely on the Professionals!
The world took an unexpected turn in 2020, and now everyone needs to adapt. With 2021 presenting the same pool supply shortages, you need to think ahead and buy responsibly.
Our certified technicians from R&R Pools can help you find a modern pool maintenance system that best suits your needs and budget. Contact us today for services that will keep your pool clean and safe for use.