An Inconvenient Truth, a Convenient Solution!
It's sad to say, but summer is almost at its end. Winter will be quickly upon us and as we know, preparations must be made!
Living in the great white North means that in order to ensure protect your investment, your pool must be properly winterized and closed as the temperatures drop.
One of the most important pieces of equipment available for pool winterization is a winter cover. We thought this may be a good time to show you the range of winter covers we have in stock.
For winter covers we carry the following: 8-year Chinese tarp cover, 10-year Canadian beaded cover, Enviromesh covers and lastly, Kafko Safety Covers. Now we will tell you a little bit more about each cover to help you decide which is the right fit for your pool and lifestyle!
(Price ranges from a 15′ round pool to a 20'x40′ rectangle)
8-year Chinese Tarp Cover $37.85 – $139.55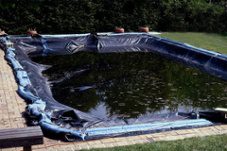 The cheapest cover we offer. Thin, solid tarp that offers no drainage.
---
10-year Canadian beaded cover $359.05 – $849.15
Made right Truro, NS. These covers are beaded clip in tarps used only on an inground pool. Solid, no drainage.
---
Enviro mesh covers $121.99 – $345.50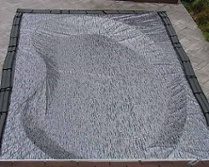 Enviro Covers are a patented reflective silver coated mesh pool cover that speeds up the melting process allowing water to filter through relieving the pressure on pool walls and the need for water where water is allocated or costly. Best for above ground pools, the Enviro mesh is our go-to recommendation. Openings are a breeze with the Enviro cover! Just peel back half the blanket, watch the remaining water drain into your pool and remove the rest of the cover, easy as that!
---
Leaf Cover $76.50 – $259.94
Simply lay a leaf net on top of your winter cover when you close your pool and remove it before the first snow. Your cover will be virtually leaf free and spring clean-up will be a snap. Eliminates that messy swamp of decaying leaves!
---
Kafko Safety Covers Starting Price – $2,000 installed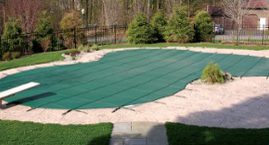 A safety cover is a spring loaded, fairly taut cover that is meant to hold the weight of a person if they accidentally walk across it. Its it is primarily for winter use but it can be left on when you are on vacation in the summer, even with the pool running.
The cover attaches to the deck and water features via straps attached with a spring to an anchor drilled into the deck. This can be installed in wooden, concrete and stone decks and features and on both shaped and rectangular swimming pools.
The biggest benefit of using a winter safety cover is safety. Kids, dogs and deer can walk across this cover without falling into the water. This cover keeps everyone out, keeping your family safe.
Of course the other major benefit is how clean the pool opens up. Oh my, some pools are just so green or black when opened due to leaves and/or algae. This helps alleviate the mess of leaves, reduces clean up time and chemical usage to bring the pool around. These covers are now the go to with every pool installation we do.
There are two types of safety covers, mesh and solid. The mesh covers are less expensive allowing more pool owners to afford the cover, but more importantly, the mesh cover is not as heavy. Solid covers take a lot to move them around and store. Keep that in mind. And ensure you get the one with the mesh strip and not the cover pump. You do not want to be going out in a snow storm to unfreeze that pump line multiple times a winter.
Finding the right winter cover means protection for you investment and headache free spring openings! We hope this information will help you choose the right cover for you and your pool!