At R&R Pools the pool building process is simple, direct and straightforward.  A project like yours will flow smoothly while leaving room for any inspiration you may have along the way.
Consultation and Needs Assessment
Either over the phone or in person, we will get to know you, your family and your dream of pool ownership. We will go over a basic budget allowance, your must-haves and what you envision in your dream pool,  to see how we can help make your vision a reality.
Your new pool will be customized for your needs, and we want to make reality out of your ideas of how you want to feel when using your backyard. From plunge to play pools, or a relaxing oasis or a party hub, your project is built just for you.  If you have pictures of your dream pool (or elements that you'd like to incorporate into your pool), make sure to bring them along — we'd love to see them!
We will also complete an onsite consultation where we assess your property to determine the various options that will suit your needs and desires and that will work with your property.
We will then provide a quote for your project. We encourage you to ask questions and provide feedback during this stage, and we will be sure to do the same.  We're committed to clear and open communication with you at all times, to make sure that you are happy and satisfied during all points of the process.
Contract Stage
At the contract stage, we will go over the quote and ensure that you and our installation team are ready to go forward and are all on the same page. This is also a time where we can have further conversations with your house builder, architect or landscaper to see if they have any issues that may require forethought.
We will work with you to decide which subcontractors may be needed for electrical, decking and fencing, if necessary. We can have all these additional items and services included in your contract for a nice and neat, stress-free total pool package, or you may choose to work with others directly. We will also discuss approximate start and finish timeframes for your project as well as payment expectations and due dates for any decisions that need to be made.
With the contract signed and deposit in hand, you are now officially on the road to being a pool owner! Your custom pool will be ordered and your project will be assigned and scheduled. At this point, you will want to contact your municipal government office to get your pool building permit. If you are within the Halifax Regional Municipality, click here for information on the permitting process for swimming pools.
The Build
The build process can take as little as seven business days to complete, but is normally spread over a couple of weeks due to liner ordering time. We like to have things done just right!
We always like to leave wiggle room as the project evolves in case an idea springs to mind, an adjustment needs to be made or you need to change direction. Don't worry — we can work with you through any challenges or moments of inspiration!
The Dig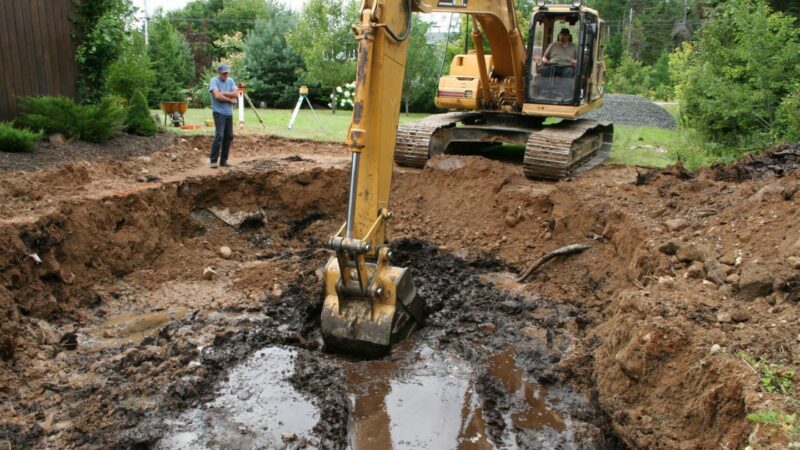 On the dig day, we will be onsite to mark out the boundaries of your pool and make sure it is positioned to your liking. We will then dig the pool, and within days, place the steel or polymer walls, pour the concrete and spread the grout over top.
Plumbing and backfilling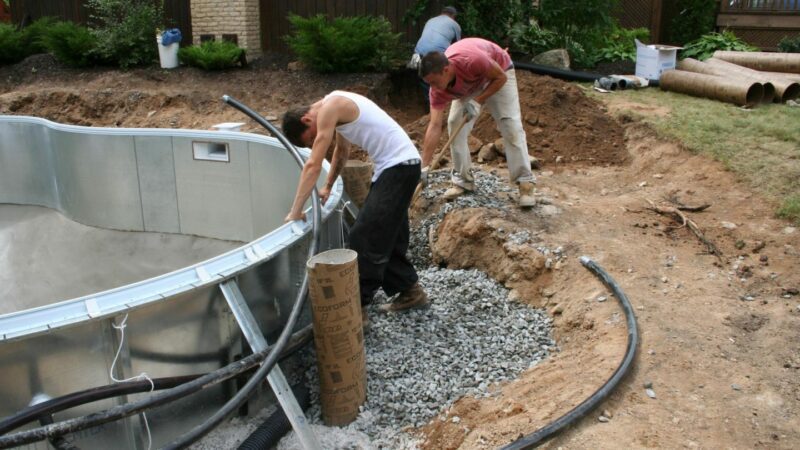 Next comes the installation of the plumbing and the backfilling.
Liner, Fence and deck installation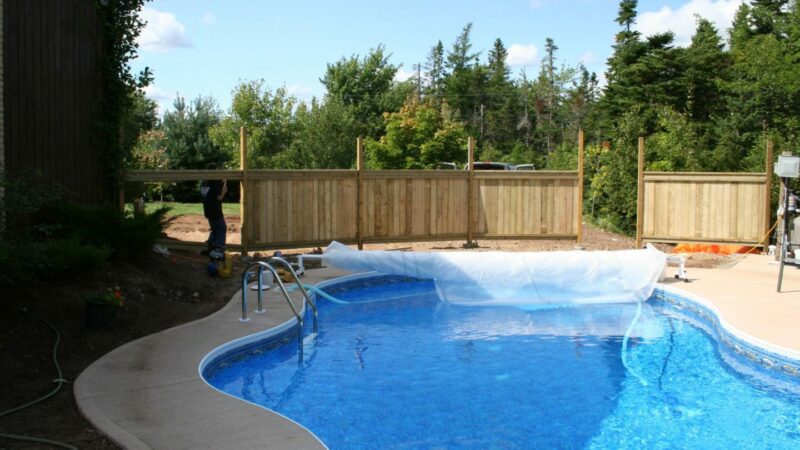 We're almost done! At this point, we will place the liner and install the deck. A concrete deck may completed by us,  or if you have chosen stone or stamped concrete, it will then be installed by those contractors. If you do not already have a 5' fence enclosure around your pool, one will be installed at this time, as it is required by law. We will also install all your equipment on your shed pad.
Once the pool is filled with water and the deck and fence completed we will start your pool.
Start up
With everything complete, your pool is ready for start-up! Every R&R Pools customer is provided with a customized onsite "Pool School" lesson with our resident teacher, Ryan. Once completed, we will follow up your lesson with a one-on-one water care tutorial in our store to go over everything once again. These easy personalized classes will ensure you have a good foundation to be able to maintain your pool and keep it healthy for its lifetime.
We will then encourage you to visit us monthly for your checkups which will help ensure endless hours of play time in and around your sparkling, clean pool for you and your family!