Family fun for years to come.
Above ground pools are the natural choice for affordability, flexibility and low maintenance. We offer a selection of models to choose from to fit any budget and to enhance any backyard setting. Loads of worry-free fun, recreation and relaxation are packed into every one of our pools.
We also send you home with everything you need, no surprises. PLUS we offer many after install services for free including Do It Yourself seminars, how-to blogs and instructions and of course water testing is free every month for our customers. We even have a monthly water test card so you can get a free closing kit. That's a $650 VALUE!
We understand the first year is a little hectic so we also include extras like your onsite and in-store how to lessons, a free closing*, one free hour service call or cleaning when you are on vacation and more.
We make it just that easy.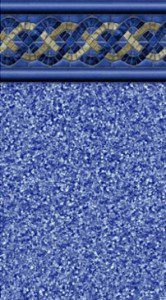 Included in your kit:
Recirculation kit, a beautiful beaded full print Canadian liner- see to the right(not overlap or U-bead), Hayward pump and filter, solar blanket (solar blanket comes with a 5 year warranty), skimmer net, brush, pole, vacuum head and hose, tigerflex hoses to connect the circulation system (not the cheap vacuum hose look-a-like) and shut off valve.
You will also receive a Smart Pak box full of weekly chemicals.
Included in your installation:
Installation of the base up to 3″ off grade, foam, cove and 1 load of water within the HRM and 2 maintenance lessons.
Included is a fantastic product called Optimizer Plus to make your water soft and silky and your Smart Pak box full of weekly chemicals.
You will also receive your pool closing (*labour only), 1 free service or cleaning call for those times you might get nervous. A clean job site, excited and experienced employees and a big smile!
What else will you need to buy after the fact?
Depends on what you put into your contract. There are lots of accessories you could buy. But what you WILL need is your balancing chemicals, the rest of the water, your closing kit, a winter cover, and some pool toys.
What else can we do for you?
Your extra base work, we can coordinate a retaining wall, landscaper and electrician if needed, bring in extra water, financing and possibly other items you may have in mind. Let us know!
Wondering about Permits?
If you are within the Halifax Regional Municipality, click here for information on the permitting process for swimming pools.
Above Ground Swimming Pool Models
Anchor Resin Salt Compatible Above Ground Pool  –   Available in 52″ and 54″ High
The New Anchor introduces elegant greys creating a sense of sanctuary in your backyard.  The resin structure can be combined with any salt water chlorinator system.  This concept eliminates the possible corrosion risks that come with steel-and-salt combinations.
The Anchor is a sturdy pool with a 100% corrosion-proof resin structure – even the joiner plates and wall channels are made from this rugged material. It's perfectly compatible with a salt chlorination system with absolutely none of the possible corrosion risks that come with steel-and-salt combinations. This pool ensures that metal never comes in contact with the water: a durable, impact-resistant resin structure is the perfect fit with any chlorine system, making the Anchor a long-lasting piece of summer paradise!
Features:

• Resin top lede & integrated stabilizer (Oversized center for greater support)
• Integrated ledge cover
• Blow-molded upright (A screwless system that is built to last)
• Resin bottom plate & rail (smooth, quick installation into upright)
• Buttressless Oval System (Invisible lateral supports on oval models let you make the most of your yard)
• Quick-Lock™ System
– Revolutionary screwless system-absolutely no metal comes in contact with water
– Ultra-resistant nylon parts
– Astonishingly easy to install
• Salt Compatible
•5/25 pro-rated warranty
See the Anchor Above Ground Pool Brochure here
We carry 52″ and 54″ in our Resin salt compatible Anchor model in the following sizes:
18′
21′
27′
12'x23′
15'x30′
18'x33′
Kamika Resin Salt Compatible Above Ground Pool –   Available in 52″ High
Why try and cram a whole summer of fun into one or two short weeks? A new KAMIKA Aquarian pool makes your summer fun last all summer. Afternoons for the kids. Cooling and relaxing after a long day of work. Pool parties and barbecues with friends on the weekends. It's like one endless summer of cool fun for the whole family.
Lasting style and value for your backyard
This pool brings unique style and beauty to your yard with design-inspired walls. Khaki colored co-ordinated posts and top ledges add a graceful touch. This look complements any backyard and any taste. And this new Kamika pool looks beautiful year after year, while it adds value to your lifestyle
Durable Kamika Pools last summer after summer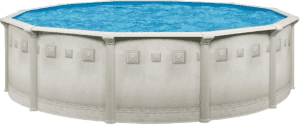 Our pool stands up to whatever kids can dish out, while it handles any weather with ease. Our 7" resin ledge resists weather, water and wear. Durable 6" resin upright posts with unique interlocking resin caps and resin foot collars give the whole package strength, support and style. The Kamika frame consists entirely of all-resin components to resist corrosion and withstand the test of time.
Years of easy maintenance
The oval pool brings the ultimate in style to your yard with a fun, flexible shape. Added engineering means long life, easy care and more useable yard space. Available in a space-saving Narrow Buttress System (NBS).
See the Kamika Above Ground Pool Brochure here
We carry this Resin salt compatible Kamika model in the 52″height in the following sizes:
15′
18′
21′
24′
27
12×24′
16×32′
18×33′
Call us at 902 876 2773 right away to set up your onsite estimate with our awesome Pool Installers!